Not too long ago we had the family over for a preseason football party. Our team, the Green Bay Packers, was playing that night, and everyone was really excited to see them win the game. I personally do not know if I was more excited for the game, or for what I was about to serve up the guests. After a week long deliberation, and several conversations with one of my coworkers, I decided to make a Mexican chili.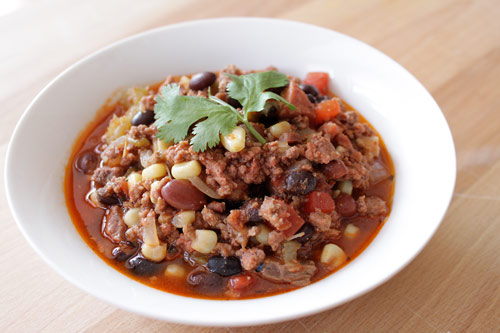 Chili is one of those one pot meals that is perfect for any occasion, however, I wanted to steer away from my traditional game time chili, and offer up something that would really surprise everyone, and boy did it ever. This recipe starts as most chili recipes do, however adding a few extra ingredients and spices really, I think, made this one of the better chili recipes I have made in some time.
Ingredients:
1 1/2 lbs of ground beef
3 Spanish Chrorizo links, diced
1 1/2 lbs of chuck roast, trimmed, and cut into bite sized pieces
28 oz can of crushed tomatoes
15 oz can of black beans, drained
15 oz can of chili beans, drained
15 oz can of tomato sauce
1 packet of taco seasoning
1 large yellow onion, diced
4 cloves of garlic, minced
1 tsp salt
1 tsp cracked black pepper
1 1/2 tsp Mexican oregano
3 tbsp chili powder
2 chipotle peppers with adobo sauce, chopped
1 1/2 cups of frozen corn kernels
1 1/2 cup of water
2 tbsp canola oil
Shredded cheese (optional)
Tortilla chips (optional)
Begin by prepping all of your ingredients. On medium to high heat, add a large stock pot to the stove, and toss in your oil. Let this heat up for a minute or two, then toss in all of your meat. The goal is to brown your meat nicely. Once the meat is browned, cover, and pour off any of the fat, then return it back to the stove top. Toss in your onions and garlic, and cook for a few minutes.
Next toss in all of your seasonings, and give a good mix, cooking an additional few minutes.
Now is the time to add in the crushed tomatoes, tomato sauce, and water, giving it a good stir, and letting it come to a boil. Next, add in the beans, chipotle peppers, and the corn. Give a good stir, cover, and reduce the heat to low, cooking for at least a good hour before serving. I typically let it cook for a couple of hours on low so all of the flavors merry, and letting the beans and meat get nice and tender.
Every bite of this chili is just loaded with great flavor, and texture. The addition of corn, and chipotle peppers, just gave a great balance of heat that balanced nicely with the creaminess of the beans. If you want to top the chili with a bit of cheese and crushed tortilla chips, go right ahead, as that is what makes eating chili fun.  If you are looking for new chili recipe, this one is a definite must make. Hope you enjoy.