There is not a month that goes by when I think of our trip a couple years ago to New Orleans. It was our first time to the crescent city, and boy, did my wife and I have a wonderful time. We spent most of our time walking through the city, in particular, the French Quarters, going down every little side street we could find, and hoping that we would encounter some really great food along the way.
We did find some really great food, and probably some of the best food I have ever eaten. Sure we had the beignet's, etouffee, and Muffelettas, but there was one thing that stood out to both my wife and I, and that was the simplicity of a po boy.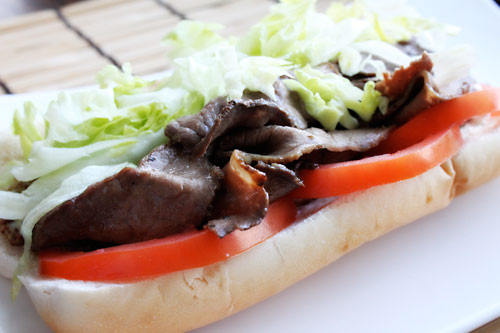 As noted in my post, shortly after our trip to NOLA, for the shrimp po boy, we became addicted to the sandwiches from Johnny's. I mean you know a place is going to be great when you consistently see a line out the door, and believe me, my wife and I had no problem waiting in line. They had pretty much any kind of po boy you could imagine, and one that has been on my mind for some time now is the roast beef po boy.
If you have been reading my recipes lately, you probably are aware that I recently received a deli slicer as a gift, and I have frequently been using it, slicing delicious cuts of meat, including a roast beef, cooked similarly to my Italian beef.
Let's get started as I am already getting hungry just thinking about the roast beef po boy.
Ingredients:
Thinly sliced roast beef (cook your own if you can)
Great French bread, sliced in half lengthwise
Tomato slices
Head lettuce, shredded
Mayonnaise
Creole, or course grain mustard
Roast beef gravy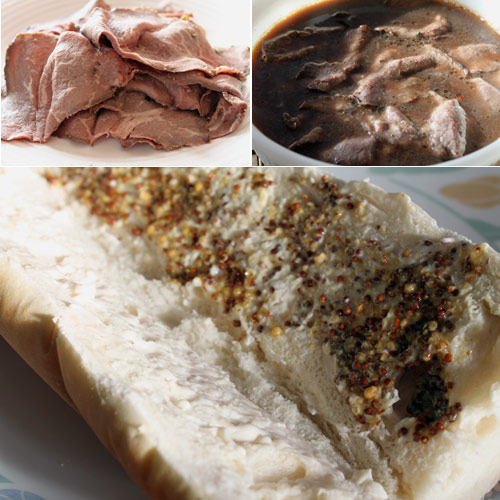 That is all that is required for a super delicious sandwich. Oh yeah, and keep in mind that is called "dressed" po boy.
Begin by preheating your oven to 325 degrees. Add the leftover roast beef mixture to a casserole dish. Take a quantity of roast beef, depending on the size of your French bread, and add it to the casserole dish. Place the dish in the oven, uncovered, and cook for about 35 minutes, to warm the beef through and allowing it to soak in all of those great flavors from the gravy.
Take your bread, and lather one side with mayonnaise, and the other with the creole mustard. Place a layer of the tomatoes on one side, and add a generous amount of roast beef and gravy to the middle. Top with shredded lettuce.
With two hands, grab that sandwich and dig in. The rest is self explanatory! If you are looking for a great po boy, and remembrances from New Orleans, this might just be the one that takes you back there. Enjoy.