Ham Balls with Pineapple and Chipotle Drizzle
It happens every Friday at my work, and probably every day at work, where we end up discussing what we are cooking during the weekend. Typically someone is grilling, and another person is smoking food, but this conversation led to one of my coworkers planning an upcoming party. He was asking me for a simple salad idea, of which I pointed to an easy to make, and wonderful  Asian noodle salad, and then he began to bring out some of his mom's recipes that he had online. Many of the recipes were classic, but one of the headings caught my attention. Ham balls.
Ham balls! I could not get that heading out of my head, and as I already had a ham in my refrigerator that I was going to cook and slice for the upcoming work week, I thought what a great idea to make these ham balls and make them with a pineapple and chippotle glaze. The result was nothing but pure heaven in ball form.
Ingredients:
2 eggs, beaten
3/4 cup homemade breadcrumbs
1 cup minced ham
2 tbsp minced onion
3/4 cup panko breadcrumbs
1 1/2 cup canola oil
Swiss cheese, small cubes
4 oz crushed pineapple
1/2 cup water
1 whole chipotle pepper, chopped
pinches of salt
Begin by adding the ham, eggs, onion, and homemade breadcrumbs to a large bowl. Mix well.
Add the panko breadcrumbs to a plate.
Take enough of the ham mixture and form it into a golf ball size shape. Once formed, press it down a bit with your thumb. This is where you will take a cube of the swiss cheese and place it in the middle of the ham ball. Form it back into a ball, and roll it into the panko breadcrumbs. Place on a separate plate.  Repeat.
Once all of the balls are formed, place the plate of balls into the freezer and let them form and solidify, approximately 30 minutes.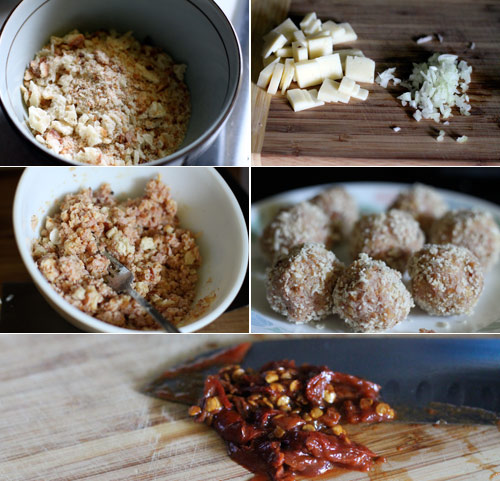 During this time, make the glaze. Add the pineapple, water, and chipotle pepper to a sauce pan. Bring to a simmer, and cook for about 10 minutes. Set aside and let cool. Add the mixture to the blender and pulse it down to a nice puree. A bit of texture is just fine.
Heat the oil in a pot on the stove. Heat it on medium high heat until you reach about 375 degrees.
Take the ham balls out of the freezer and add a few to the heated oil, moving them around until they are all nice and golden brown. This will only take about 5 minutes, if that.
Remove the balls with a slotted spoon onto a paper lined plate, and sprinkle them with a pinch of salt. Repeat.
When you are ready to plate and serve, add the balls to a serving plate, and add the sauce in a small bowl. This plating allowed for a nice drizzle of the sauce on the ham ball. Pure delight through and through. A great crunch on the exterior, while nice a fluffy on the inside, this ham ball when perfect with the sweet heat from the sauce.
Simple, comforting, and great to make for a party, these ham balls were something wonderful.