You might not be familiar with the title of this post and you are probably thinking 'what the hell?'. Don't worry, that's why I am here. It basically translates to 'awesome sandwich', or better yet ]Chinese barbecue pork tucked into everything amazing with a Vietnamese sandwich. I wanted to make this sandwich for a couple of reasons. First, I had some leftover char siu because the kids were freaked out by the pink color of the pork. Afterall, it's only red food coloring, but oh well, and on a second note, I love a great banh mi sandwich. I've been making banh mi for some time now, everything for a great Asian pork banh mi, to a breakfast banh mi. After visiting a local market in the area, known as Pacific Produce, I had to have a banh mi. I always have to have a banh mi when I visit there, and in my opinion, they make the best banh mi in the Milwaukee area. Not only are they cheap, but they are legitimate with their bread, and ingredients. So after I enjoyed every bit of that banh mi, I went home and  pickled some carrots and daikon, only to get ready to make some banh mi!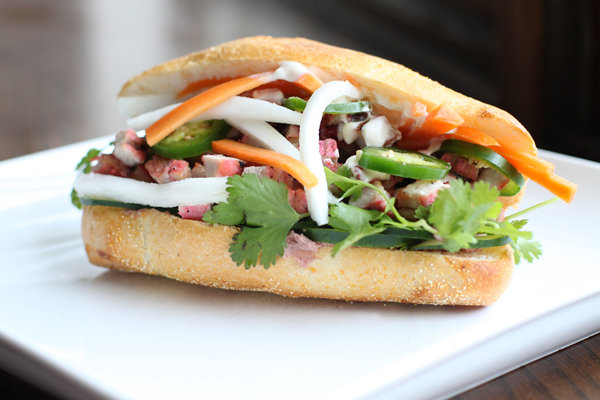 Let's get started.
Ingredients for Char Siu:
Pork shoulder, cut into about 2 inch strips (I used thin pork chops)
2 tbsp dark soy sauce
2 tbsp light soy sauce
2 tbsp oyster sauce
2 tbsp rice wine vinegar
3 tbsp honey
2 tbsp brown sugar
4 tbsp hoisin sauce
1/2 tsp Chinese five spice
1/2 tbsp red food coloring
To a bowl, everything but the pork chops, and mix well. Add the pork to a gallon sized ziplock bag, adding the sauce. Give the pork a nice massage, making sure you incorporate the sauce onto the pork. Seal the bag, removing as much air as possible, then tuck it away in the refrigerator for the night.
The following day when you are ready to make the pork, remove it from the refrigerator about 30 minutes before placing it on the grill. Heat your grill, and cook until the pork is cooked, about 12 minutes. Chop the pork.
Ingredients for the Banh Mi:
Take your whole baguette, or bolillo roll and warm it in a 350 degree oven for 3 minutes.
Slice the roll in half, and smear the braunschweiger on the top of the bottom roll. Top the braunschweiger with the sliced cucumbers, then cilantro, the chopped char siu, fresh jalapeños, the pickled carrots and daikon, then smear the mayonnaise onto the top roll.
Dig in. Any bite into a Vietnamese banh mi is amazing. This one is just as amazing. You get that great heat from the jalapeño but it gets transformed by the pickled vegetables, the sweet Chinese char siu, and then the freshness of the cilantro and cucumber that is only trumped by that wonderful braunschweiger. As I continued to eat this sandwich, I thought, this is probably one of the best sandwiches out there, and yet so many have taken a chance and had one. Two words. Make this. This Char Siu Banh Mi is awsome!
.
Leave a Reply or Submit a Review
You heard me right. Muffuletta pizza. When my wife and I went to New Orleans, years ago, we went to the famous Central Grocery, and got a muffuletta. It was everything I expected in a great Italian sandwich, and with that awesome giardiniera, it could not be beat. Well, it did get trumped on the trip by some really awesome po boys, but I still think of that sandwich to this day. Of course when I came back home from that trip, I tried replicating that muffuletta, and I was pretty close at getting those flavors and textures in the sandwich. Regardless, this past weekend I had made a batch of pizza dough as my daughter wanted to start her very own blog, and I figured as much as she loves making her own pizza, that she could use a portion of the dough and create her own pizza recipe. Now that left me with some extra dough, and as I rummaged through my refrigerator, I had a stare down with some homemade giardiniera. That led me into making this muffuletta pizza.
Let's get started.
Ingredients for the Pizza Dough (makes 3 pizzas):
3 3/4 cup of bread flour
2 1/2 tsp active dry yeast
3/4 tsp table salt
3/4 tsp plus a pinch of sugar
1 1/3 cups of room temperature water
Ingredients for the Pizza:
1/2 cup of store bought, or homemade giardiniera
1 1/2 cup of shredded mozzarella cheese
3 slices of hot cappocola
3 slices of salami
3 slices of mortadella
3 slices of sopressata
Make the dough by adding the flour, yeast, salt, and sugar. Mix. Add the water, and with your wooden spoons, or hands, mix until blended. I use my KitchenAid for this process to keep everything in the bowl during the rising process. Mix for about 30 seconds. The dough should be a bit stiff. Cover the bowl with a towel, and let it sit at room temperature until the dough has doubled in volume, about 2 hours.
Once risen, divide into three portions. With one of the portions, add some flour to a large pastry board, and start rolling it out into your desired pizza shape. If you are adventurous, try tossing the pizza, to get your desired thickness.
Preheat your oven to 500 degrees with the pizza stone inside.
Lay the dough onto the preheated pizza stone, and top with half of the cheese, then spread out the giardiniera. Layer the sliced meats on top of the giardiniera, arranging them much like you would pepperoni. Top with the remaining cheese, and place in the oven, cooking for about 20-25 minutes.
Remove and let cool for about 5 minutes before slicing into it, then dig in.
At first glance you might think, hmmm, just an ordinary pizza, but when biting into it you get all sorts of amazing flavors. The subtle heat from the heated giardiniera is balanced by those slightly crisp Italian cold cuts. I did not let my wife know what she was eating just to get her reaction, and she was blown away. I think it might be time to consider opening a pizza truck, what do you think? If you are wanting a new pizza idea, give this one a shot, it could be one of my top favorites right now!
.
Leave a Reply or Submit a Review