I wanted to do something interesting with the bag of onions I had in the pantry this past week. Typically I would chop and dice these and use in a variety of dishes, or simply make delicious onion rings. As I wanted to make cheeseburgers, I decided instead of using raw onion on the burger, that I would caramelize them. This process only took about twenty minutes, and was fantastic.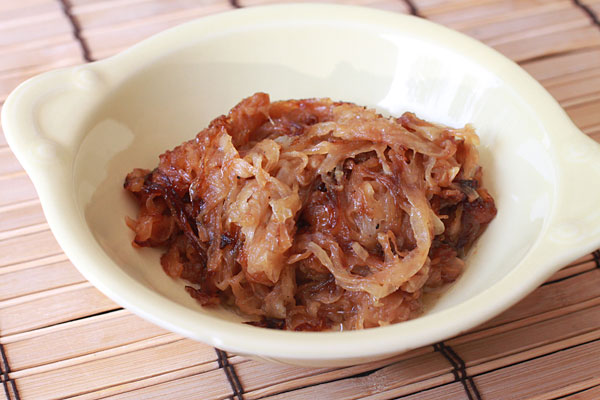 Ingredients:
3 TB unsalted Butter, or you can use olive oil
Onions, you decide on how many you want; I used two small, two medium white onions
1 TB sugar
First cut the onion in half and remove the outer skin. Then slice thinly to allow shoestring type length, making sure to separate all pieces. In the meantime, add the butter or oil to a medium sized skillet and cook on medium heat. Once the butter is heated through, add all of the onions.
Do not worry if the onions pile up high as over the course of the cooking time, they will cook down. Lower the heat medium-low and keep cooking the onions, tossing or stirring from time to time. Nearly twenty minutes later, you onions will turn from white to a deep brown. Once you begin to achieve this colorization, this begins the caramelization process.
Now I served these on top of a cheeseburger with monterey pepper jack cheese and smoked bacon, alongside a baked potato. I could have simply used these onions on top of the baked potato, served on the side, or placed in a big mug with a spoon.
These onions were so delicious, and waking up the following morning had the house smelling like a sweet, delicious onion. Sounds goofy regarding the smell, but it made me want to make them the next day. As my wife said, "why don't we have these every night?!".