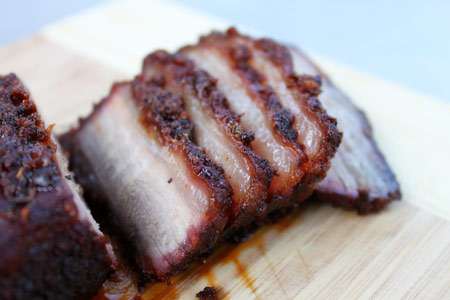 I do not think I really experienced true smoked meat until I moved to Dallas, Texas in the mid-to-late 1990's.  Maybe I should not say that, after all, my Dad did have a canister smoker while I was in high school and he would experiment with fresh fish, beef jerky (here and here), and some turkey from time to time. I do not really consider that true smoked meat however. You know what I am referring to right? Barbecue. Not grilling, but barbecue. Truly great smoked food. The real deal. I have been experimenting with smoking for nearly three or so years now, trying different woods for the smoked flavor, as well as different rubs. One thing about smoking any food though, you have to go low and slow; low heat, long time.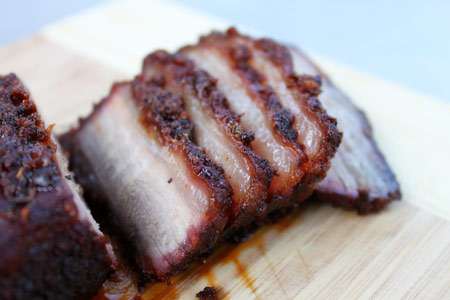 Pin It
This past week I tried something a bit different for the rub, however. I typically do a dry rub, or a wet marinade, but this time around I thought I would combine the wet and the dry and see where that would take me. Let's say it took me to another level, and a level that I loved being on. This really easy wet rub is a cinch to put together, and could be tried on a variety of meats, but I used it on some flat cut brisket, something I had been craving for some time.
Ingredients:
2 lbs of flat cut brisket, keep the fat on
2 beef bouillon cubes, crushed to a fine powder
1/2 tbsp Worcestershire sauce (say that 4 times)
1/2 tbsp salt
1 tbsp brown sugar
1 tsp garlic powder
1/2 tbsp black pepper
1/2 tbsp paprika
1/2 tbsp onion powder
1/4 teaspoon dried oregano
1-2 cups of cherry wood chips, soaked in water
Begin by adding the Worcestershire sauce to the crushed bouillon. Mix well. Use this to coat your brisket, rubbing it into the meat. Next, combine the dry ingredients, mixing well, and rub it all over the wet brisket. Seal in a ziplock bag and let this sit in the refrigerator while you prepare your smoker.
You have a few options when it comes to smoking. You can use a gas grill, and heat it on low, adding your smoke chips to some foil. You can do this in the oven as well. Me? I use the canister style smoker that I saw my Dad use while growing up, only due to the fact that my sister-n-law gave it to me for free as she thought it was a deep fryer. 🙂
Start by heating your coals in the bottom portion of the smoker. Then goes your water or liquid in the mid-section, then your grate, and cover. Once your coals are heated through, you can take the brisket out of the refrigerator, and let it come to room temperature before placing on the grate. Place it on the grate, FAT side on the top. Cover, and let this go for about an hour. During this time, soak your wood chips. I used cherry wood. After about one hour, toss in some of the wood chips into the coals. This is the best, the smoke will start to build. You become entrenched with the smoke smell. It's amazingly good. Do this about once an hour. This smoking process cooks the meat, as well as adds some great smoke flavor to the beef. After about 4 hours, remove it to a plate, and cover, letting it rest for about one hour. This process retains any of the juices.
Slice and serve. This goes great with sandwiches, homemade sauce, and can holds it own to any Texas barbecue.