Tom Yum Goong, or Tom Yam Goong simply translates to Hot and Sour Shrimp Soup. Thai food, what could be better than the perfect balance between sweet, spicy, sour, and salty? Not much if you ask me. There is something to be said about Thai food in general, as in my opinion, it really accomplishes a lot of what food is meant to be. Deliciously balanced in every bit, and pretty to look at as well. I miss really good Thai food. Back while living in Dallas, my friend Kevin and I would frequent a local Thai restaurant, where he knew what to order. Kevin was married at the time to a native Thai, and many of his friends worked at the restaurant. Simple dishes with sticky rice, peanuts, pud gra pow, fried fish, and cold beer among other things. When moving back to Milwaukee, it was really hard to compare what was here in terms of Thai food, to what I experienced in Dallas. It was just different.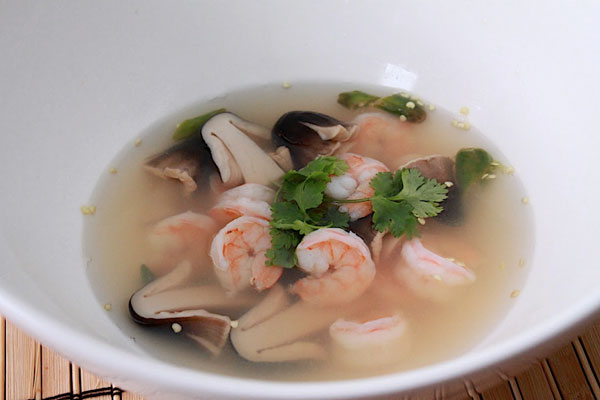 I am not about to knock the Thai restaurants in Milwaukee, as The King and I restaurant probably had one of my more favorite dishes on its menu, and one that I recreated, called Volcano Chicken. As we continue to search for really good Thai food, most of which is take out with family, there is one thing that is left behind when ordering, and that is soup.
Thai soups are really delicious, and sure, when we order Chinese take out, there always seems to be a quart of won ton soup in the bag, but not with Thai take out. The usual suspects are found which include the occasional fried fish, pad thai noodles, some fried egg rolls, satay chicken, and maybe a curry dish. But the soup. The Tom Yum is something so delicious, and so perfect when it is done right. The perfect balance of spiciness, sourness, and saltiness. A soup so easy to put together with just some basic Asian ingredients.
There are a few versions of Tom Yum that you can play with, including Tom Yum Goong (shrimp), Tom Yum Gai (Chicken), Tom Yum Kai (fish), as well as the versions that have a bit of coconut in them. My favorite is the traditional Tom Yum Goong. Let's get started as I am getting hungry just thinking of the flavors this soup yields.
Ingredients:
5 cups of water
2 stalks of lemon grass, mid to lower section, cut into 1-2 inch pieces
6 kaffir lime leaves, folded
2 tbsp fish sauce (nam pla), or more based on taste
1 lime, juiced, or more for taste
3 Thai chili peppers, cut into pieces, or left whole
8 shrimp, shelled and cleaned
5 canned straw mushrooms, rinsed, and sliced lengthwise in half
Cilantro, for garnish
Begin by getting a pot on the stove, add the water, and bring it up to a boil. Take the lemon grass, and give it a little smash with the back of your knife. This will bring out a bit more flavor of the lemon grass. Add to the water. Next, get your serving bowl out, and add in the fish sauce, and juice of one lime. The big question for you at this point in time is how spicy do you want the soup? I love spicy food, so I use three Thai chilies, chopped, then smashed a bit with the back of the knife. This allows me to see where the chili is in the soup, and allows me to avoid them, or allows me to nibble on them here and there. So you add as many to the bowl as you think you can handle, but add them whole, even if you do not like spicy food, as this is required to balance out the soup, hence the 'hot'.  Next, take a slotted spoon and remove the lemon grass. Add in the kaffir lime leaves,  and cook for about 6 minutes. You will love the smell of the broth already. Trust me. Next add in the straw mushrooms, cook for a couple of minutes, then add in the shrimp. Turn off the heat and watch the shrimp cook. They only take a minute or two. You are now ready to place in your serving bowl.
With a ladle, add some broth, shrimp, and mushrooms to the base of the bowl. You want about 3 cups of broth to balance out the flavors. Top with a couple of torn sprigs of cilantro and dig in. The aroma, and the perfect balance of sweet, salty, sour, and spice really make this a phenomenal Thai soup. So with the family who wants Thai takeout, but wants some great authentic soup at the same time, this is so easy and quick to make that it will be ready on the table as your family member drives to go get the carry out! Enjoy.