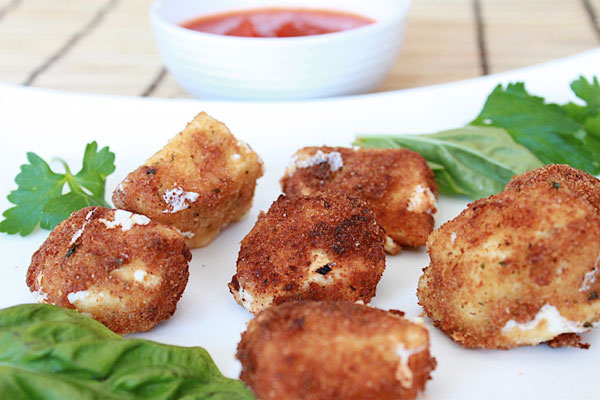 Often times I come home from shopping at my local grocery store with two of one item. Sure, most of those times are large quantities of frozen waffles for the kids, but I am a real sucker when it comes down to thing like buy one get one free on mushrooms, or as this last week exposed, mozzarella cheese. Whenever there is that special, my first reaction is look at the expiration date, and when that is all good, I am all good.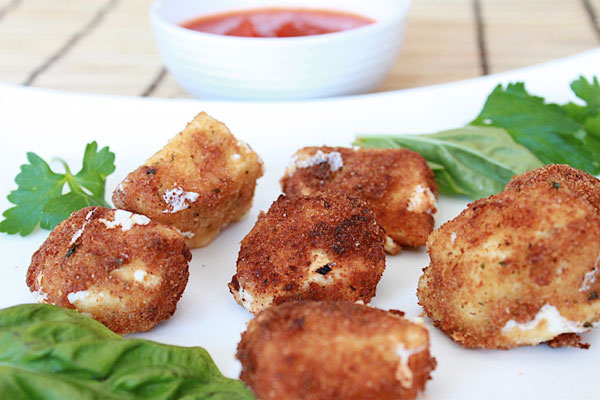 I knew I could easy use the mozzarella cheese on something, in particular, my first reaction was a making a margherita pizza, but I wanted to break out of my weekly pizza making habit, and do something different for the family. Hence, the fried mozzarella balls with Italian sauce.
These are so easy to make, only take a couple of minutes to fry up, and are a great way to serve an excellent appetizer.
Ingredients:
8 oz fresh wrapped mozzarella cheese, typically in the shape of a large ball, cut into bite sized pieces
1 cup of flour
2 eggs beaten, with 1 tbsp water
1 cup of seasoned Italian breadcrumbs
1 cup of canola oil for frying
your favorite Italian sauce or marinara
Fresh basil or Italian flat leaf parsley for garnish
Begin by adding the oil to a fry pan. Bring this up to a medium to high heat, or better yet, if you have a cooking thermometer, up to 375 degrees. The next few steps go really quickly.
Take a few of the mozzarella pieces, and and them to the flour, and toss to coat. Make sure you get a light coating on eat piece before moving them over to the egg wash. Coat each piece with the egg wash, and move them over to the Italian breadcrumbs, making sure each piece is coated. Place them in the fry pan, and fry for only a couple of minutes, or until they are golden brown.
Remove them from the pan, and onto a plate lined with paper towel to drain any excess oil. Repeat the process while they are frying, or get your favorite kitchen assistant to help along the way.  Serve warm, with your favorite sauce, and garnish with basil and parsley.
Please note that these mozzarella balls are so incredibly delicious, that you will probably want to cut your that second 8 ounce ball! Enjoy.