The Best Roasted Pumpkin Seeds
I don't know what came over us this fall season. Ever since our youngest was able to walk, our goal was to make it to an orchard, pick a large basket of apples, then take a hayride to pumpkin patch and spend some time finding the right pumpkin. That did not happen this year. As I was a bit bummed by the whole thing, it did not stop me from taking my kids to our local farmers market and having them pick whatever pumpkin they wanted. I think my daughter, the youngest, was the most excited and as soon as we brought them home, began asking every three minutes or so when we could decorate and carve the pumpkin. I could not resist, and so I went out and purchased a pumpkin carving kit for her.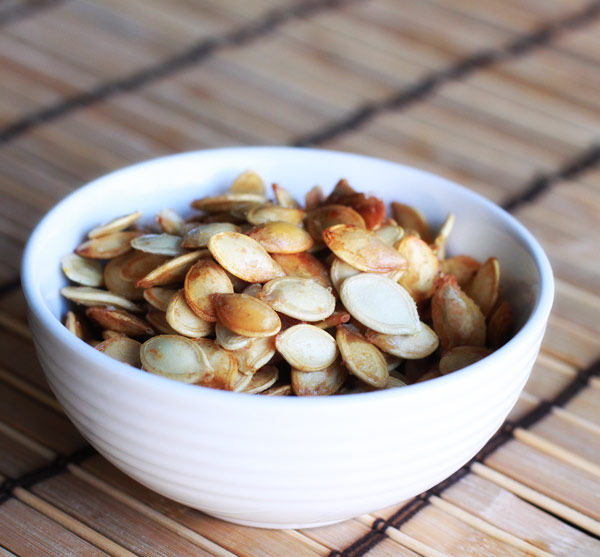 When I came home, she still had that same excitement. I also grew with excitement. Not due to the fact that I had to do much of the work, but due to the fact that I would soon have pumpkin seeds to roast. As soon as I carved off the top of the pumpkin, my daughter got right in there, extracting all of the flesh, and separating the seeds. She is one who does not mind the slimy interior of the pumpkin. As she was doing this, my boys interest grew in carving their pumpkins, and we got started on them as well. The funny thing is they wanted nothing to do with putting their hands into the slimy interior, and shortly bailed on the project. But my daughter kept at it, gutting all three pumpkins.
As I normally make savory pumpkin seeds, I decided this time around to go with a movie theater style pumpkin seed, and wow, am I glad I took this approach.
Let's get started.
Ingredients: [Print this Recipe]
2 cups of pumpkin seeds, cleaned
2 tbsp unsalted butter, melted
1 1/2 tsp salt
That's it. Three simple ingredients.
Preheat your oven to 350 degrees.
Get started by laying the cleaned seeds onto a large roasting pan, spreading them out. You can let these sit overnight to dry, or you can pat them dry with some toweling. Once dry, add them to a large bowl. Â Add in the melted butter, and salt and mix really well.
Add the seeds back to the roasting pan, spreading them out once again and place in the preheated oven. Roast for 30 minutes, stirring about 15 minutes in. Remove them from the oven and serve.
These seeds were so addicting that they had my entire family coming back to them like every few minutes. I am not kidding. They were that awesome.