Years ago, there was a restaurant in my neighborhood called The Atlanta Bread Company. I am fairly certain it is a chain restaurant where it focuses on pastries, coffee, sandwiches, and soups. When the restaurant first opened, I ordered food from there on several occasions,and as it was fairly decent in the first months of opening, it somewhat went downhill from there.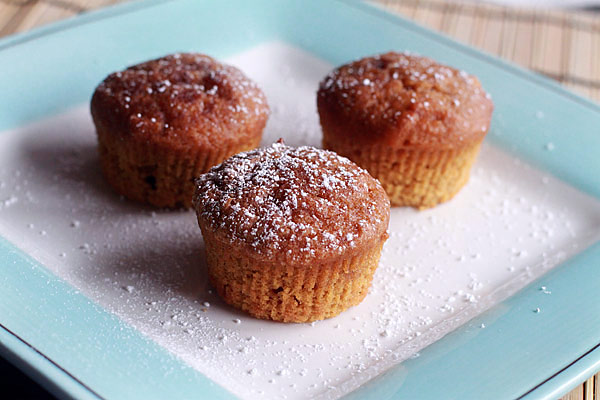 My wife, on the other hand, would frequent there to buy a bag of pumpkin 'muffies' for the kids. That was her treat to them, and did they ever love them. They were called 'muffies' because they were only the tops of the muffins. As the restaurant is no longer the Atlanta Bread Company, but a restaurant known as Portabellas, the 'muffie' tops no longer exist. With the abundance of pumpkin pie filling around the grocery stores this past Halloween season, I thought I would at least make my attempt on making them a full blow pumpkin muffin, and one that would hopefully bring back their memories of the muffin top. I think I accomplished just that.
Ingredients: [Print this Recipe]
1 1/2 cups of all purpose flour
1 tsp baking powder
1/3 cup of vegetable oil
2 whole eggs, room temperature
15 oz canned pumpkin
1 1/4 cups of sugar
1/2 tsp salt
1 tsp cinnamon
1/2 tsp baking soda
Additional sugar for topping
Muffin pan liners
Powdered sugar
Begin by preheating your oven to 350 degrees.
In the meantime, add the canned pumpkin, eggs, oil, sugar, baking soda and salt to a large bowl. Whisk the mixture until it is nice and smooth.
Mix the cinnamon, and about a tablespoon of additional sugar to a small bowl.
To another bowl, mix the flour, salt, and baking powder. Mix your dry ingredients to the wet ingredients until you have formed a nice, smooth batter.
Line your muffin tray with the muffin tins, and begin to ladle or pour in the muffin mixture, only about 3/4 of the way full. Sprinkle the cinnamon and sugar mixture on top. Place the muffin pan into the oven and cook for about 30 minutes. Test for doneness by inserting a knife into the middle of a muffin, and if the knife pulls away clean, with no mixture on it, your muffins are done.
Remove the muffin pan from the oven, an remove the muffins from the pan, letting them cool on a rack, or plate for about 5-10 minutes before serving.
To serve, add a muffin to a plate and shower with powdered sugar.
The end result is nothing but an awesome, and quick pumpkin muffin. Watching the kids eat these, I could tell that they had the same excitement as the day my wife would bring home a bag of muffin tops.
Reflecting on why the business is doing so bad now, my recommendation would be to possibly refocus, do some better marketing, and maybe bring back those muffin tops. But, hey, why bother I suppose, when you can get the same experience by making them at home. Hope you enjoy.