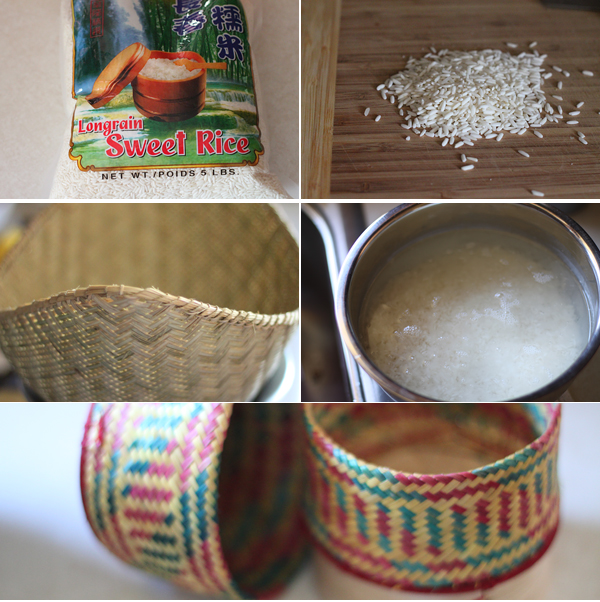 If you have ever walked into an Asian grocery store, the first thing you probably notice is the mounds and mounds of bags of rice, typically located near the entrance. They offer a variety of rice, and one of my favorites is the jasmine rice. We eat rice about once or twice a week at our house as the kids love it and I like using any leftover rice for making Filipino garlic rice in the morning, or a nice fried rice for dinner.
But there is one rice that I really enjoy making, and I love watching my kids eat, and that is sticky rice. Sticky rice is typically made, or ordered as a speciality from any Thai kitchen. Something that is not listed in many menus, at least that I have seen. In the mounds of rice, you can find smaller bags of these thicker granules of rice known simply as sticky rice.
This is not your ordinary jasmine rice, and if you have doubts about what you are buying simply ask. In order to make this you will also need a bamboo funnel steamer, and a large pot, which you can buy at the same store for less than ten dollars. It's all worth it, trust me.
Ingredients:
1-2 cups Thai Sticky Rice
Steamer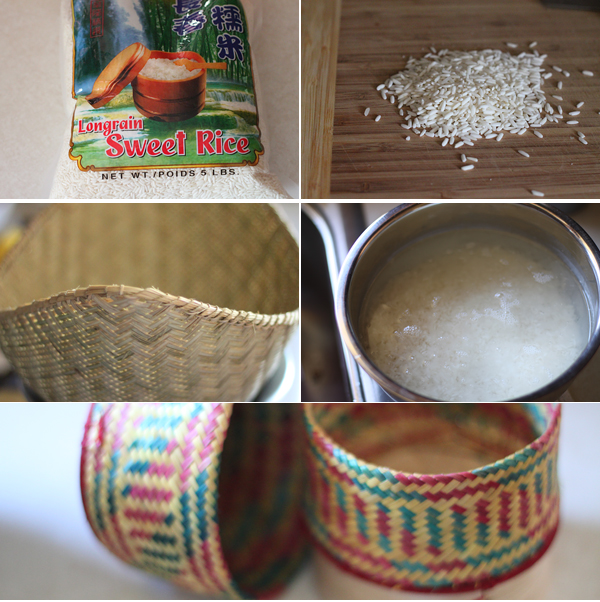 Soak the rice overnight in a bowl of water. This softens the rice and shortens the time to steam. When the rice is ready, rinse the rice and place in a bamboo steamer. Cover and let steam for nearly 10-15 minutes per side. I say side because you will want to remove the bamboo steamer and knock it against the counter to loosen the rice after 15 minutes. Then you can toss it so it flips over. Sounds difficult, but it is not. Continue steaming the other side for ten minutes while covered.
When the rice is ready. Take the ball out and place it on a cutting board as you will want to flatten it out a bit and begin to fan it, as to cool the rice. I purchased a bamboo container at the same market so that I can cover the rice. It was about four dollars.
Keep in mind that the rice should be served warm and cannot be saved for leftovers.
To serve, simply place the rice into a serving bowl, covered. Take a handful out, roll into little balls, and press down into whatever you are serving. I suggest making something like beef or chicken larb, or dip in a side of spicy Thai sauce. Our kids love rolling the rice into little balls, (we do not let them eat the sauce), making shapes, and then eating them as is. How do you eat your sticky rice?