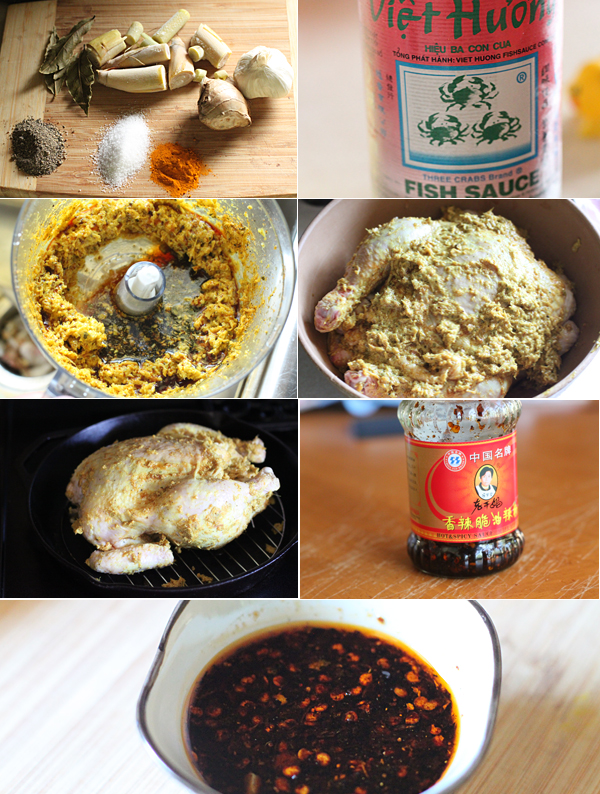 Filipino Roasted Chicken – Lechon Manok
You probably know by now that my in-laws are Filipino, and I often live through them when it comes to understanding the cuisine of the Philippines. I realize that there are so many great Filipino recipes out there, however I have only skimmed the surface when it comes to trying some of the food. By default, most, if not all parties consist of pancit bihon, and lumpia. I've had lechon kawali, pancit canton, and tinola to name a few more. But there is so much more I want to try, and so I keep an ear out for what family members are talking about, or missing from their homeland.
One of the family members had posted a great picture on Facebook of something they made called lechon manok. I immediately got excited, not just because of the food porn picture, but because it was a recipe from a man that I did not have the honor to meet in life. Rumor has it he was a awesome chef, and knowing the children of this man, and their connection to the Tayag name, I knew it had to be good. So I prompted them with a couple of questions regarding this lechon manok, and decided to give my take on this classic recipe.
Lechon manok is basically a roasted style chicken done Filipino style. Here's my take on this recipe.
Ingredients: [Print this Recipe]
1 whole roasting chicken
6 cloves of garlic, minced
2 stalks of lemongrass, roughly chopped
1 large shallot, minced
1 tbsp sugar
1/2 tsp salt
1/2 tsp cracked black pepper
3 tbsp fish sauce
1/2 tsp Tumeric powder
1 tbsp ginger
3 whole bay leaves
Start by adding everything but the chicken to a food processor and process until you have a smooth paste. Rub this paste all over the chicken, inside and out. Place in a large bowl, and cover with plastic wrap, placing this in the refrigerator overnight.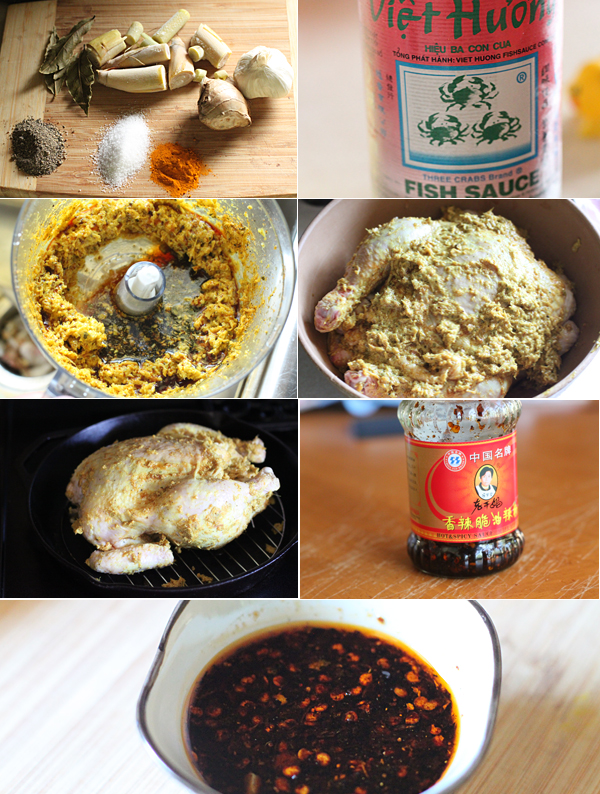 The following day, and before you are ready to roast the chicken, remove it from the refrigerator, and let the chicken come to room temperature. You basically want to take the chill off of the chicken.
Next, get a large, oven proof skillet out and line it with a wire rack if you have one. If you do not have the rack, no big deal. Even better, if you have a rotisserie for your barbecue, use this and go the grilling route. I have a pretty great roasted chicken technique, so I went this route.
Preheat your oven to 450 degrees. Place the chicken into the skillet, and place in the preheated oven for 40 minutes. Do not open the oven. After 40 minutes, turn off the oven, and keep the chicken in there for 20 minutes. Traditionally lechon manok might be wrapped in some banana leaves, but I did not have any. If you have some, wrap them in the leaves, and wrap the entire thing in aluminum foil.
After the full hour, remove it from the oven, and insert your meat thermometer into the thickest part of the chicken. Let it set in there for 30 seconds or more. The goal is to have your chicken reach 165F.
To serve, either present your chicken whole, or carve and present it that way.
The result is nothing but amazing. This is unlike most roasted chicken recipes only in the sense that it has this wonderful flavor. Maybe it's the fish sauce, or maybe the ginger, garlic, and lemongrass. Whatever it is, this lechon manok is a great recipe.
Lechon manok is commonly served with a liver sauce, but instead, I simply used a blend of soy sauce and garlic chili oil as part of my dipping sauce.
So I have to thank the Tayag's for mentioning this and capturing that picture for their family gathering on Facebook!