Beer Battered Onion Rings
Last week we decided to host some family members and serve a "burger bar". Basically the serving plates were lined with everything you would want on a burger including bacon, caramelized onions, roasted mushroom, avocado, pickles, lettuce, tomato, raw onion, as well as an array of condiments. I also wanted to provide some homemade french fries, but then as the afternoon was catching up on me, I decided to offer up some homemade beer battered onion rings.
I am typically a burger and french fry kind of guy, and rarely, if ever, do I order onion rings from a menu. However, it wasn't long ago where I ordered the onion rings, just to change things up a bit, and wow, was I ever happy that I did order the onion rings. There was something about them that I really loved, and hence why I decided to offer my take on an onion ring, a beer battered onion ring at that.
Let's get started.
Ingredients:
3 medium sized onion, outer skin removed, sliced 1/2 inch thick
2 cups all purpose flour
1 tsp salt
1 tsp garlic powder
1/2 tsp cracked black pepper
1/4 tsp cayenne pepper
12 oz cold pilsner beer
1 cup of buttermilk
3 cups of canola oil, heated to 350 degrees
Start by taking apart your onions by popping out the rings of each slice. If they break, don't worry. Broken rings are just as delicious. Add the rings to a bowl, and add in the buttermilk. Set aside.
Next, add one cup of the flour to a bowl. Add in the salt, peppers, and garlic powder. Give that a good mix.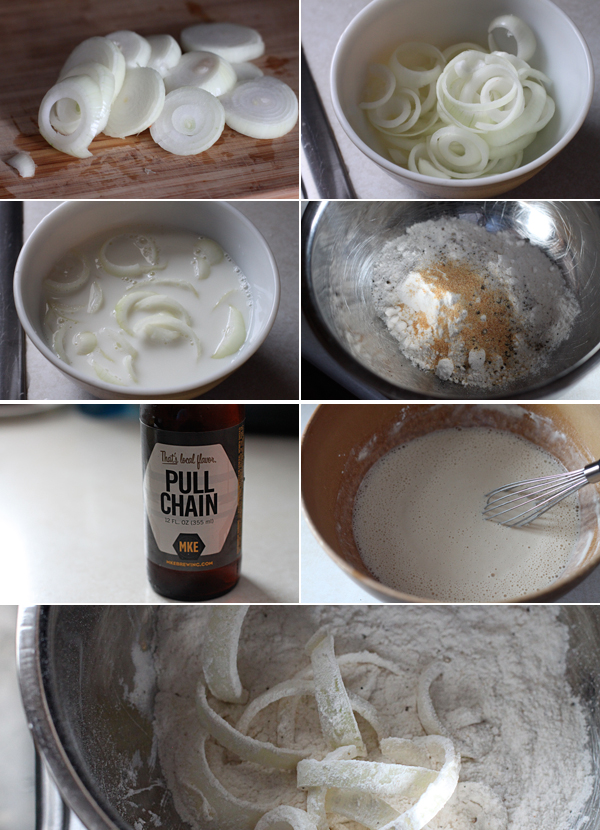 Next add the oil to a medium sized pot and bring that to a medium, to medium-high heat. Your goal is to shoot for 350 degrees.
Get another bowl ready, and toss in the remaining cup of flour. Add the cold beer, and whisk until you have a smooth batter.
Once the oil is heated, strain the onions.
Add the onions, about six or so at a time into the seasoned flour. Shake off any excess flour, then toss them into the beer batter.
Gently add them to the hot oil, being careful not to overcrowd them as they will stick together.
Cook the onions until they are golden brown, about 3-4 minutes. Remove with your kitchen spider or slotted spoon, and set them on some paper towel to remove any excess oil. Season with a bit of salt. Repeat this process until all of the onions are cooked.
These beer battered onion rings were a huge hit. Everyone grabbed a handful, and you could just hear the crunch when they bit into them. Crispy beer batter on the exterior, and a nice and tender onion on the interior. So if you are looking to sway away from french fries during your next burger party, give these a try. Hope you enjoy.