Ham, Cheese, and Pineapple Egg Rolls
As you might have seen from my last post regarding my Root Beer Glazed Ham, it is obvious that I had plenty of leftovers due to the size of that beast. As my son pretty much devoured much of it through the next couple of days, I made sure to save a bag of scraps, if you will, for my own pleasure as I had a couple of ideas up my sleeve in terms of recipes. I'm not going to kid around, and I will be honest in admitting that I love ham. I could eat it for breakfast, lunch, and dinner, and now, with this idea, I can eat it as a snack.
As I normally do during the weekend hours, I snoop around my pantry, refrigerator, and freezer, taking a more detailed inventory as to what I have in stock. I do this to come up with ideas for recipes during the week, but also come up with quick ideas as to what I can remove on a more immediate basis and throw something together. That's when I saw my leftover bag of ham, a package of spring roll wrappers, a can of pineapple, and well, cheese sticks. This is why I am now serving ham, cheese, and pineapple egg rolls.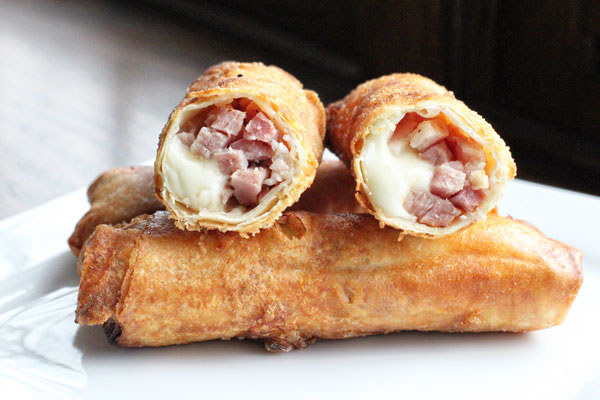 I also made these because, well, I love egg rolls. Hands down one of the simplest and most delicious things to eat, plus you can get super creative when it comes to stuffing these bad boys.
Let's get started.
Ingredients:
4 Spring Roll Wrappers, thawed
4 Mozzarella cheese sticks
1 cup of cooked ham, chopped
1 pineapple ring, diced
1 1/2 cups cooking oil
1 egg, beaten
Now let me just say that I was never a fan of the ham and pineapple combination, especially when it came to pizza, however there is something to be said about the combination whereas the the pineapple really does cut through some of that fatty and oiliness. I knew this would be a great combination, and it was.
Start by preparing all of your ingredients, then heat a small pot, with the oil, on medium heat.
As the oil is heating, start making your egg rolls. I'm a huge fan of Tyj Spring Roll Pastry wrappers from Spring Home, and as a matter of fact, they are my go-to wrappers, but you use what you like.
Lay a spring roll wrapper onto your plate, and add a cheese stick near the middle of the wrapper. Make sure the point of the egg roll faces you (See how to roll an egg roll), then add a quarter of the diced ham, and pineapple, laying along the cheese stick. Roll, fold the edges, then brush the top point with the beaten egg. Roll and seal.
Repeat with remaining ingredients.
Place in the preheated oil, about 350 degrees. Deep fry until they are golden brown. Remove with tongs, and place on a paper lined plate to drain any excess oil.
Dig in.
These ham, cheese, and pineapple egg rolls were pretty awesome. They are everything you love in a ham and cheese, but then you get that sweetness from the pineapple, and that just locks in the deal. It's a wonderful surprise of flavor! These are perfect any time of the day if you ask me. Hope you enjoy!