We are up to our ears with fresh tomatoes, and that is never a bad thing. What I love about planting tomatoes, is really the excitement I see when I bring a large bowl into the kitchen and watching my wife's expression. See, she is really the one who loves tomatoes. I stepped in my grandfather's shoes where I'm not the biggest fan, but I do eat them. It took me years to actually love eating tomatoes, and when I say that, I mean in my late twenties when my wife and I were together. She is the one who gave me the nudge, and I probably started to really enjoy them when she turned me on to serving sliced tomatoes with a bit of soy sauce, and cracked black pepper, along with rice. With that said, we are sitting on a load of tomatoes, and it has been my goal to create recipes with them. That's where bruschetta comes into play.
I know people who simply love bruschetta, pronounced as Brusketta, and it is some of the simplest and pure things to make. Perfect for this time of year when you have an abundance of tomatoes. You can go as far as you want when making bruschetta, but to me, it's the simple route. Tomatoes, a bit of basil, garlic, salt, and pepper, all topped on a crostini.
I am not adding amounts here as you basically want to have a substantial amount of tomatoes on each crostini. You could make 3 or you can make 20 if you know what I am saying. I fed a party of 8 adults and used about 12 small tomatoes, and 5 leaves of fresh garden basil.
Let's get started.
Ingredients:
1 Italian loaf of bread, sliced into 1 1/2 inch rounds
2 tbsp unsalted butter
2 tbsp olive oil
3 cloves garlic
12 whole medium sized tomatoes, diced, seeds removed
5 leaves of fresh basil, torn
salt, to taste
cracked black pepper to taste
Parmesan cheese, optional
Start by heating a skillet on low heat. Add the butter, olive oil, and garlic. Melt and simmer on low heat for about 15 minutes. The goal is to infuse the butter and oil with great garlic flavor. Now you can skip this step if you want, and simply rub some of the toasted bread with fresh garlic, but I really enjoy the butter and oil combination, with just a hint of great garlic.
Preheat your oven to 350 degrees.
To a parchment lined baking sheet, add the sliced bread. Brush both sides with the garlic butter and oil mixture. Sprinkle with some parmesan cheese. Place in the oven and toast for about 12-15 minutes, or until lightly golden.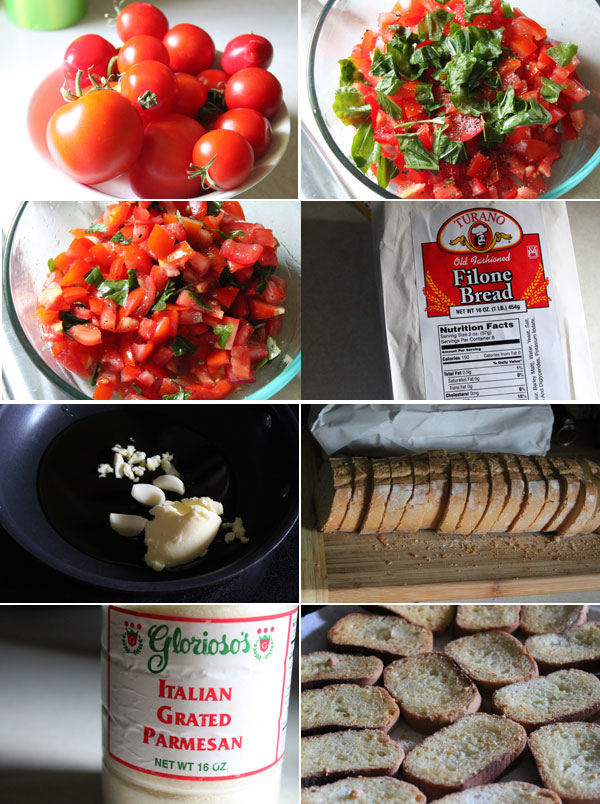 During this time, quarter the tomatoes, and then chop into a small dice. Add the tomatoes to a bowl, and add in the torn basil, not chopped basil. Season with a pinch or two of salt and pepper, and stir. Cover and place in the refrigerator for about one hour.
You will notice juices extract from the tomatoes. That's fine. Reserve that if you want and use it in some sauce, or bloody mary's. Your call.
Take a crostini, and using a slotted spoon, add the tomato and basil mixture on the top of each crostini.
Plate and serve.
The result is nothing more that pure greatness. It's simple. It's fresh, and delicious, and you get everything you could ever want in fresh garden ingredients. Are you a fan of brushcetta? Do you ever change it up from the basics? Hope you enjoy!