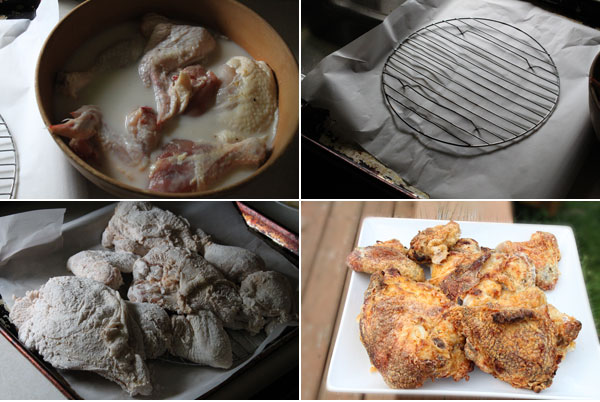 Crispy Oven Fried Chicken
One of my favorite meals of all time has to be fried chicken, mashed potatoes, and corn. Hands down. Typically this type of meal is only served in the cooler months of the year as it is my true comfort food, but lately I COULD NOT RESIST MAKING IT. I'll admit, I broke down and could no longer tolerate my craving for this meal. However instead of frying it in a cast iron skillet, I decided to take a spin on it and go for an crispy oven fried chicken. The name itself doesn't really make much sense as there is no frying involved, however, the result is everything you would expect in an awesome fried chicken, without cooking it in oil, and a lot less cleanup as well.
This is pretty much a classic way of preparing fried chicken and it's super easy and pretty much hands off, which is great during a busy work week.
Let's get started.
Ingredients:
1 whole fryer chicken, cut into pieces
1 quart buttermilk
1/2 tbsp cracked black pepper
1/2 tbsp seasoned salt
1 1/2 cup all purpose flour
1/2 cup corn starch
1 tbsp additional seasoned salt
1/2 tbsp additional cracked black pepper
Cooking spray
Start by adding buttermilk to a large sealable bag, or large bowl. Add in 1/2 tablespoon of the cracked black pepper, along with 1 tablespoon of seasoned salt. Â Stir. Add in the chicken pieces (breasts, wings, thighs, drummies), and make sure all is coated.
Place in the refrigerator for at least 4 hours but preferably overnight.
Next, add the flour, additional salt and pepper to a brown paper bag, or large sealble plastic bag. Shake well.
Remove the chicken from the buttermilk and place in the bag. Seal, and shake the crap out of it. Make sure all is coated.
Remove the chicken from the bag, shaking off any excess, and place on a rack, and let the flour mixture mellow a bit on the chicken.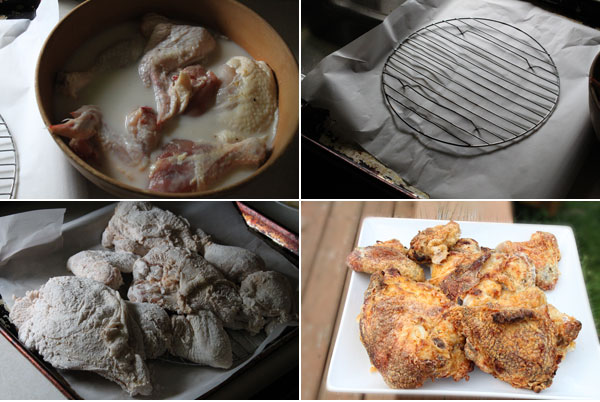 During this time, preheat your oven to 425 degrees.
Lightly spray the cooking spray on each piece of chicken, and place the rack onto a baking sheet.
Cook in the oven, for about 45-60 minutes, or until golden and crispy and the chicken registers 165 degrees.
Plate and serve with your favorite sides, and well, in this case you know what I served mine with.
If you are looking for a no fuss, non-oil, crispy style fried chicken, this is the one. It's crispy, it's juicy, and well, it's just darn delicious. Hope you enjoy!