Smoked Bacon Wrapped Jalapeño Poppers
I'm a big fan of jalapeño poppers, however I am probably the only one in my house that does love them, and with that said, I don't get to eat them all that often. Regardless, there are occasions, such as this past weekend that allowed me to come up with these smoked bacon wrapped jalapeño poppers. Jalapeño poppers themselves are really good, but the addition of a slow smoke made these things even better.
Unfortunately, I only had a couple of jalapeño peppers leftover from another recipe I was working on, and I say unfortunately because after eating these, they were awesome. Regardless, let's get started.
Ingredients:
2 whole jalapeño peppers, stems removed, and cored
2 slices of bacon
3 tbsp whipped cream cheese
3 tbsp shredded mozzarella cheese
smoker
Start by mixing the two cheese together in a small bowl. To each jalapeño pepper, carefully stuff each one with the cheese mixture.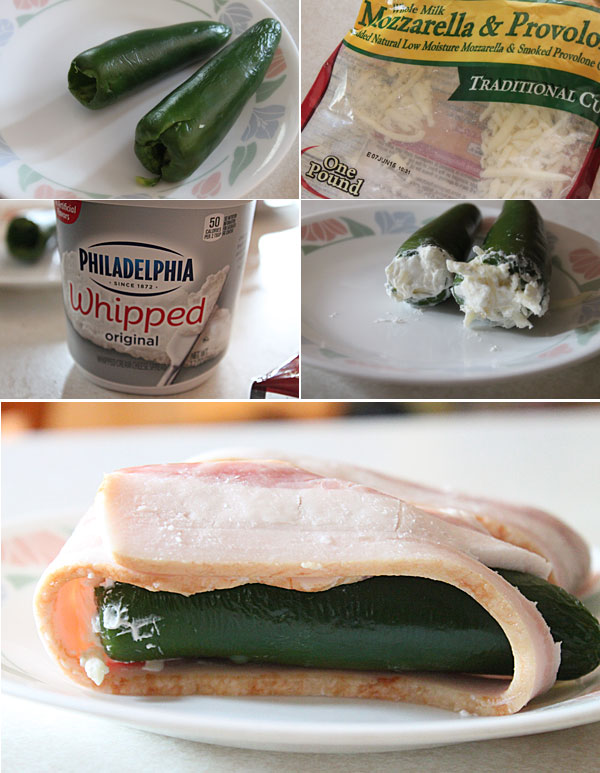 Take a piece of bacon, and lengthwise, wrap the stuffed jalapeño pepper. You could secure with a toothpick if you desire, however I did not need to do that.
Place onto your smoker, and cook until the bacon is slightly crispy.
The end result is awesome. You get a bit of the smokiness, nothing too overpowering, with a slightly crispy exterior of the bacon, and really tender jalapeño pepper. The creaminess of the cheeses brings it together as well. I know the next time I get my smoker going, I will be making these again, and in my opinion, they were better than the classic jalapeño popper!