My daughter has been a baking machine lately. Every chance she gets she asks if she can make some cupcakes. Cupcakes are her thing. As a matter of fact she is measuring sugar in front of me as I right, only to bake away an orange dream cupcake creation. On the contrary, I am not a baker by any means, probably because I am not that much into sweets. I do love ice cream, but not so much a fan of cakes, pies, and unfortunately, cupcakes. BUT, I do try my best to help her out and give whatever guidance I can outside of her cupcake journal. Yes, she keeps a journal of her recipes which I think is pretty awesome. Â So recently I wanted to show my daughter that you can make other types of desserts that does not require heating the oven on a summer day. That's when the lemon curd cake came into play.
Let's get started.
Ingredients:
1 pint of heavy cream
1 1/2 tsp vanilla extract
2 heaping tbsp powdered sugar
10 oz jar of lemon curd
11 oz box of Nilla Wafers
1/2 tsp cinnamon powder
The cool thing here, and a great teaching moment for my daughter, is making homemade whipped cream.
Start by chilling your mixing bowl, and whisk in your freezer. I think this always helps when making whipped cream. Chill those two for about 15 minutes, then remove and get ready to make your whipped cream.
I use my KitchenAid mixer, and once attached, pour in the heavy cream, vanilla, and powdered sugar. Mix on a medium-high speed until the heavy cream thickens and forms stiff peaks on your whisk. This should only take a matter of minutes. If you want a sweeter whipped cream, add more powdered sugar prior to mixing.
Once you have whipped cream, get a 12×8 baking dish out, something in that range, and get ready to make the lemon curd cake.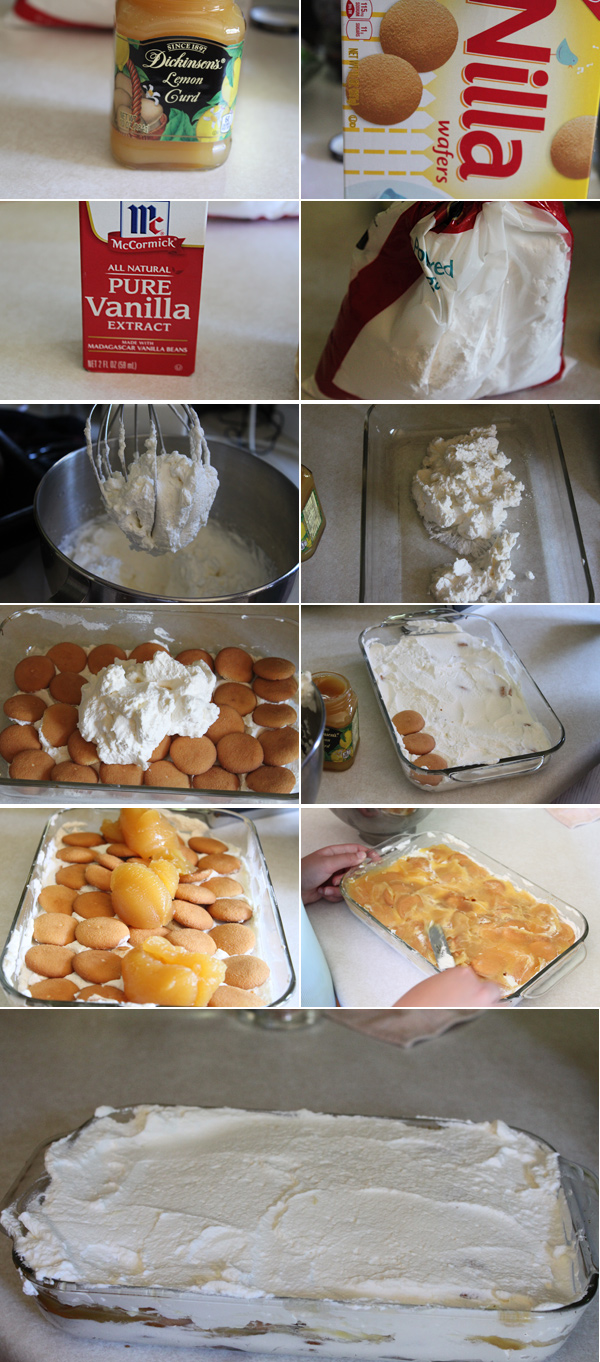 I say cake here, but it uses those delicious Nilla wafer cookies. Once set however, and placed in the refrigerator for a period of time, those Nillas soften up and make this great cake like texture.
So take a bit of your whipping cream (I made sure my daughter got every little bit left on that whisk), and from a thin layer on the bottom of the pan.
Next, make a layer of Nilla wafers, then another layer of whipped cream, then another layer of Nillas. Next, take the lemon curd, all of it, and gently spread over the layer of cookies. Once evenly spread, add the remaining Nillas, arranging with however many you have left, then spread out the remaining whipped cream. Sprinkle on the cinnamon powder.
Cover, and place into the refrigerator for at least 4 hours before serving to let the cream jive with the cookies.
Serve in bowls, or glassware and dig in. Talk about a simple dessert and one all of my family loved! Â It's slightly lemony and creamy which had my family coming back for more. Heck, I even had two servings and that's saying something. Â If you are looking for an easy dessert, one that is perfect for this time of year, then look no further as this lemon curd cake has it all!