Slow Cooker French Dip Sandwich
I have been craving French dip sandwiches lately. The French dip could be one of my favorite sandwiches of all times. That time came when I really wanted one and so I decided I would take things in my own hands and make a batch of slow cooked beef and try to accomplish everything I love about this classic sandwich. The great thing about this recipe is that it only takes a few minutes to prepare, and you throw things in your slow cooker, head out to work, and everything is ready when you get home. By the way, it was so flipping delicious that my wife was talking about it the next day!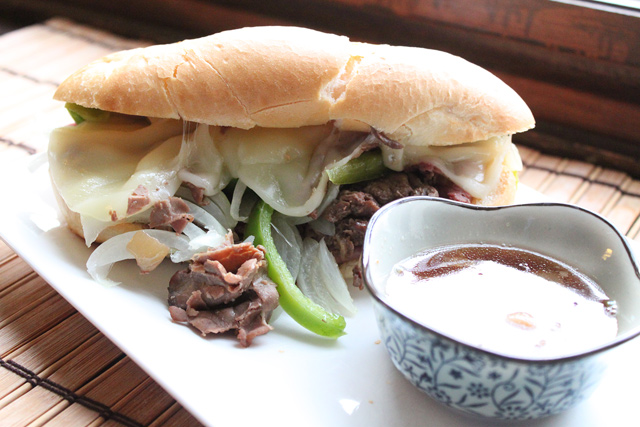 Let's get started.
Ingredients:
1 1/2 lbs beef sirloin, cut into thin strips, fat removed
1 lb roast beef from your favorite deli, thinly sliced
1 package onion soup mix
1 onion, thinly sliced
1 clove of garlic, minced
1/2 tsp cracked black pepper
4 cups beef stock
1/2 tbsp salt, to taste
1 tsp garlic powder
provolone cheese slices
1 green bell pepper, thinly sliced, Â optional
1 additional onion, thinly sliced, optional
1 tbsp canola oil
bolillo rolls
Start by marinating your beef. To a bowl, add the beef, roast beef, onion soup mix, sliced onion, salt, pepper, and garlic, and garlic powder and mix well with your hands. Cover and marinate overnight.
The following morning, add the meat mixture to your slow cooker. Add in the stock, give a gentle mix, cover, and set on low for 6-8 hours.
Before serving, heat a skillet on medium-low heat and add in the oil if you are using the bell pepper and onion mixture. Add the peppers and onion to the skillet, and cook just until tender. I like a bit of crunch left on my mixture for a bit of texture.
When you are ready to serve, grab a roll, add as much beef mixture as you would like, top with the cooked onions and peppers, and add a couple of slices of provolone. Ladle a bit of the au jus from the slow cooker into a dipping bowl, plate, and dig in.
This was so good, and my wife was right the following morning when she talked about the French dip sandwich with excitement. It was one of those that you could keep going back to, and one that was hard to put down as you you could not wait for the next bite. Fortunately I have leftovers, even though my kids devoured theirs, so I know what we will be eating tomorrow! Now granted you could just eat this with straight up beef and bread and take a dunk in the gravy, but it never hurts to get your veggies on there, along with some nice sharp cheese! Hope you enjoy!