White Chocolate and Cranberry Haystacks
Please don't get bored with me. I know I am posting more and more cookie recipes that I recently made, but it is the season, and I promise I will have much more comforting food recipes to please your eyes and palettes in 2019. Do you know how many recipes I posted in 2018? Me neither, but I know it is quite a bit and that is a bit surprising with all of the stuff we have been dealing with this year, and I am thankful to be able to keep posting. Hopefully one day my kids will look into my website and make a recipe or two. That's a goal.
So with the cookies that I have made, these white chocolate and cranberry haystacks were a real treat and something my wife and kids could not stop eating. Who knew chow mein noodles could be so delicious, right?!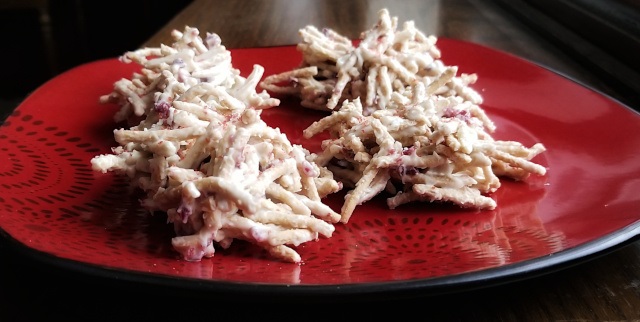 This is another one of those cookies that are basically melt, form, and eat. A no baker type of cookie.
Let's get started.
Ingredients:
11 oz bag of white chocolate chips
12 oz bag of chow mein noodles
1 cup of dried Craisins, blended into fine pieces (cherries would be good as well)
 red sprinkles, optional
parchment paper
Place your chow mein noodles in a mixing bowl.  Toss in the ground up cranberries.
Melt your white chocolate. I do these over a double boiler but you can keep an eye on it in the microwave, stirring frequently up to 3 minutes. The goal is to get nice and creamy white chocolate.
Have I told you I was never a fan of white chocolate, up until recently? Crazy how that works.
Once the chocolate is melted, pour into the bowl of noodles. Stir, and stir quickly coating all of the cranberries and noodles.
Notice on the image above with the Chow Mein. The callout says 'Improved Taste!'. Yikes. Hey, at least there is 0g of trans fat per serving.
Next, line a baking sheet with parchment paper.
Take two spoons and form into bite sized shapes. These will be all over the place in terms of size and shape, so don't worry! Sprinkle with sprinkles if you want. Let these sit in a cool place, uncovered for about 1 hour, or less until the chocolate hardens and you are left with the haystacks.
Take one. Just try and take ONE. Now watch others eat them as you eat them. These things are great, and fun. They somewhat shatter and the crunch of the chow mein, along with the sweetness from the white chocolate pairs so well with the subtle tartness from the cranberries.
Now, only about 15 more cookie recipes to post… Kidding. Enjoy!