The other day I had this vision of slurping noodles. I have no idea why. I was probably hungry, and as my oldest has been devouring ramen noodles lately, noodle slurping was just on my mind. This was around ten in the morning mind you. So when I got home I looked around and noticed I had a bunch of green onions to use, and had an array of pasta to chose from. I was looking to make a thicker style noodle in a spicy, yet awesome Asian style sauce. I'll admit that one third of my refrigerator door is littered with Asian ingredients; everything from soy sauces, fish sauces, hoisin, sesame oil, gochujang, and mirin just to name a few. So with that said, I was going to setup a nice, thick Asian sauce, almost like a gravy, to be slurped with some nice thick cut bucatini.
Let's get started.
Ingredients:
1 lb bucatini, cooked al dente
3 tbsp canola oil
5 cloves of garlic, minced
1 tbsp ginger, minced
1 generous pinch of red chili flakes
3 green onions, thinly sliced
1/4 cup of soy sauce
1/3 cup of hoisin sauce
2 tbsp dark sesame oil
1/4 cup Sherry cooking wine
1/2 cup chicken stock
1/2 tbsp corn starch
1/4 cup of roasted peanuts, lightly crushed
Start by cooking your pasta. Drain and set aside.
Make the sauce by adding the soy sauce, hoisin, sesame oil, and sherry cooking wine to a small bowl, and give a good mix. Set it aside.
Add the chicken stock and corn starch to another bowl. Stir well, and set it aside.
Add the oil to a large skillet, or wok, and bring the oil up to temperature on medium to medium, high heat.
Toss in the garlic, ginger, and chili flakes, cooking for a few minutes. Add in the sauce, and cook for about five minutes, stirring along the way.
Toss in the chicken stock and corn starch. This will begin to thicken the sauce after cooking for a few minutes. Stir.
Once the sauce begins to thicken, toss in the noodles and almost all of the green onions. Set a few aside to sprinkle on top of the noodles when serving.
Gently toss the noodles, incorporating the sauce, and warming the noodles.
Put the noodles into a serving dish, and shower with any remaining green onion and the crushed peanuts.
Slurp away. The bucatini noodles themselves are awesome. They are much thicker than a spaghetti, but they are hollowed ou which allows that sauce to get in there and penetrate the pasta. These noodles are pretty delicious. They had that nice spice from the garlic and chili flakes, but are balanced by the hoisin and sesame oil. These are also great hot or cold, so they are perfect for outdoor picnics and get togethers.
.
Leave a Reply or Submit a Review
You know me by now, and you know that I love pizza. I love it so much that I have created close to twenty different pizzas, and typically when I make a batch of pizza dough during the week, I try to make a different type of pizza. So this past week when I was batching out the pizza dough, I looked around my kitchen to see what was available, and what I could use up, and that's when I came up with this mushroom, onion, and rosemary pizza.
Now sure, when you hear the title, you might think, big deal, it's a mushroom and onion pizza. It is, but this one is special as the fresh rosemary takes this pizza over the top, plus it is meatless which makes it even better.
Let's get started.
Ingredients for the Pizza Dough (makes 3 pizzas):
3 3/4 cup of bread flour
2 1/2 tsp active dry yeast
3/4 tsp table salt
3/4 tsp plus a pinch of sugar
1 1/3 cups of room temperature water
Ingredients for the Pizza:
1 1/2 cup of shredded cheddar cheese
2 cloves garlic, minced
1 cup of thinly sliced portabella mushrooms
1/2 cup of red onion, thinly sliced
1 sprig of fresh rosemary, stem removed, leaves roughly chopped
flour
Make the dough by adding the flour, yeast, salt, and sugar. Mix. Add the water, and with your wooden spoons, or hands, mix until blended. I use my KitchenAid for this process to keep everything in the bowl during the rising process. Mix for about 30 seconds. The dough should be a bit stiff. Cover the bowl with a towel, and let it sit at room temperature until the dough has doubled in volume, about 2 hours.
Once risen, divide into three portions. With one of the portions, add some flour to a large pastry board, and start rolling it out into your desired pizza shape. If you are adventurous, try tossing the pizza, to get your desired thickness.
Preheat your oven to 500 degrees with the pizza stone inside.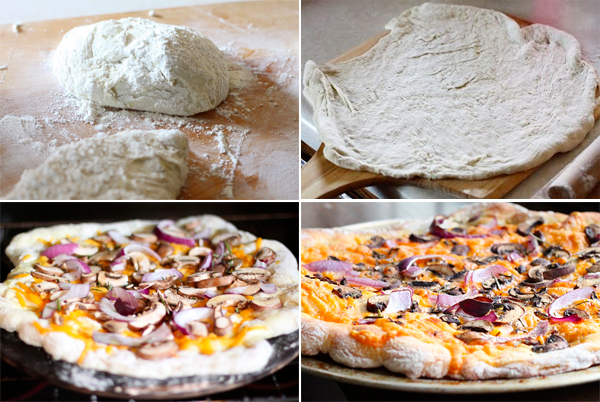 Lay the dough onto the preheated pizza stone, and top with garlic, then the cheese, mushroom, onion, and fresh rosemary.  Place the pizza in the oven, cooking for about 20-25 minutes, or until the crust is nice and golden, or partially charred, and the cheese is nice and melted.
As I made a couple of other pizzas for the kids, I steered towards this one. As I loved the other ones, this one kept drawing me back to it. It was simple and again, that fresh rosemary not only provided a great smell, but the flavor was just spot on. I hope you enjoy.
.
Leave a Reply or Submit a Review