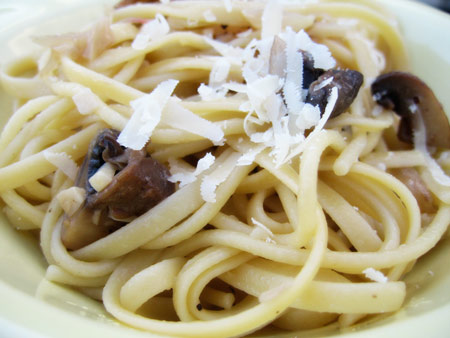 Spaghetti with Portobello Mushroom and Shallots
Lately I have had a craving for mushrooms. Not sure why, and not sure if I really care why, but I have. One of my favorite types of mushrooms to cook with is the portobello mushroom. I just love its flavor. Grilled with a little olive oil, or sauteed in garlic and butter, always makes a good meal. As I normally do, I looked around the refrigerator and my vegetable drawers for ideas on what to make for dinner the other night. I never know where this is going to lead me (hopefully in the right direction), but that night it lead me to make a really killer pasta with portobello mushroom and shallot sauce that was out of this world.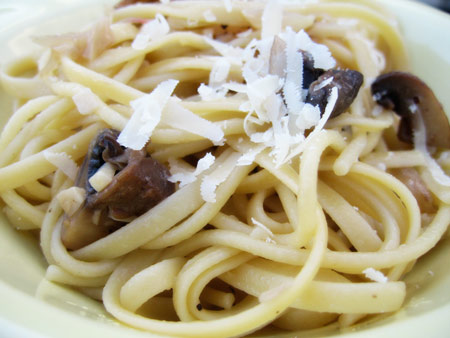 Super simple to make, this is a must have during a busy night at work.
Ingredients:
1 lb of spaghetti or fettucinni, cooked al dente
8 oz container of portobello mushrooms, cleaned and quartered
5 shallots, finely sliced
2 cloves of garlic, finely diced
3 tbsp unsalted butter
2 tbsp olive oil
2 tbsp dry sherry cooking wine
generous pinch of pepper
generous pinch of salt
1/4 cup of shredded Parmigiano-Reggiano cheese
1/4 cup of pasta water
Begin by bringing a large pot of salted water to a boil. As this takes time to come to a boil, get a skillet ready, and on medium heat, add in the olive oil and 2 tbsp of the butter, and let it melt down.  Add in the shallots, garlic, and mushrooms. Cook on medium heat for about 5 minutes, turn up the heat, and add in the sherry wine. Let this cook and reduce the heat to low. Add in the cheese.
Once the salted water has came to a boil, add in the pasta and cook until al dente. A few minutes for fresh pasta, and 9-11 minutes for boxed pasta. Once the pasta is cooked, drain the pasta. To a large bowl, add the mushroom and shallot mixture, add the pasta on top, the pasta water, and one tbsp of butter. Combine everything.  Now you are ready.
The smell is amazing, and the taste it out of this world. Grate some more Parmigiano-Reggiano on top if you desire.