Who doesn't love the tortilla. To get it out on the table, I am a fan of the corn tortilla.
Large or small, flour or corn, the tortilla is a beautiful thing. If you have followed me for some time, you would know how often I use tortillas. Just do a simple search for "tortilla" on simplecomfortfood.com and you will see a few pages of recipes that include the tortilla. Growing up, I think our taco night was surrounded by hard shelled tacos, warmed in the oven, and loaded with simple ingredients. Going to Indiana Beach in Monticello, Indiana, a taco stand existed with some really killer taco shells, almost like a puffy taco. Regardless, the tortilla is something that can be eaten at breakfast, lunch, dinner, or dessert. That alone is always amazing to me.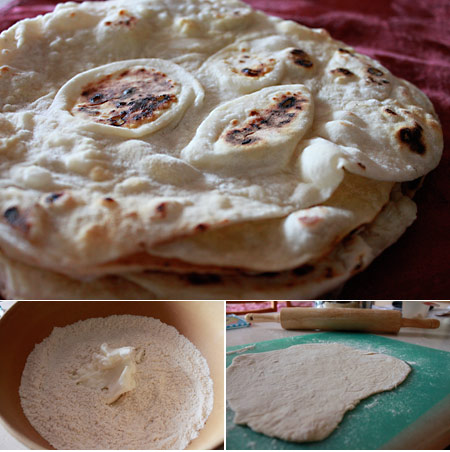 Taco night typically occurs on a Tuesday or Thursday in my house. My kids really enjoy taco night, as do I, primarily due to the fact that the kids have selections, whether it be a corn or flour tortilla, cheese, tomatoes, avocado or guacamole, raw onions, cilantro, lettuce, and a variety of condiments. Taco night is an important evening. It is very comforting. It is almost like a date night for our family. Everyone is excited, yet comfortable.
Granted, tortillas are cheap, they truly are. Fifty cents for a small bag of corn tortillas, and under a dollar fifty for flour. You pretty much cannot go wrong with buying a bag at the store, HOWEVER, there is something, truly something, about fresh tortillas. It could be the smell, it could be the simple idea of doing it yourself, or possibly the texture and taste. Whatever it is, taco night has changed for us. My kids truly enjoyed the flour tortillas, and they are so simple to make. A small amount of time yields really great results.
Ingredients:
3 1/2 cups all purpose flour
2 tsp baking powder
1 1/4 salt
6 tbsp of vegetable shortening
3/4 to 1 cup of warm milk
cast iron skillet, or a pan that can carry a nice even high heat
Begin by mixing all of your dry ingredients in a large mixing bowl.  Toss in the vegetable shortening and use your hands to make it into a nice crumbly mixture. Add about 3/4 cup of the warm milk, which you can place on the stove for a few minutes, or in the microwave, it's up to you. Form this into a nice, gentle dough. Take this out of the bowl and place on a lightly floured surface, kneading for about 2-3 minutes before placing in a bowl for about 20 minutes, covering with a damp towel.
Preheat your cast iron skillet to a medium-high heat.
After about 20 minutes, take the dough out, and take about a golf ball sized pinch off of the dough, and roll out onto a lightly floured surface, turning or spinning a bit as you roll it out into a circular shape. Roll it about a quarter inch thick.  Keep in mind, this is a bit rustic, it does not have to be a perfect circle that you would buy from your local grocery store.
Take each dough shaped goodness, one at a time, and add it to your skillet. This cooking process only takes a minute or so, especially if you are using a cast iron skillet. You will notice that the dough begins to bubble after about 30 seconds. Do not freak out. Just let it do this for about another 30 seconds, before flipping it over, and cooking for another 30 seconds or so.
Keep in mind that you might lose one or two tortillas in this learning process. Never worry about that. It's only flour, milk, and a bit of shortening. The learning experience and the end result is the cool factor. The skillet will turn the tortilla a bit dark in some spots, and that is not only ok, it is also delicious.
Remove the tortilla and place in a warmer if you have one, or place on a lightly dampened cloth, folding over, to keep warm. Repeat the process until you make about 12-17 tortillas.
The rest is up to you. Carnitas, pastor, veggie. Taco night is how you want it. Truly wonderful. Truly delicious.