I love Thanksgiving. The idea of planning, preparing, and cooking for friends and family is something that I consider to be quiet peaceful and comforting. Granted there is some hustle and bustle cooking for nearly sixteen or more adults, plus all of the kids, but there is some real payoff realizing that you took part in providing comfort to others. This past Thanksgiving was full of fun, food, and family, and I was thankfully able to share the cooking responsibilities with our cousins Charmaigne and Mark, as well as their sous chef, Suny.  Everything was pretty awesome. From the delicious wines and champagne that was flowing, to the succulent turkey, sweet ham, and a killer beef wellington. Lets just say there was no shortage of food.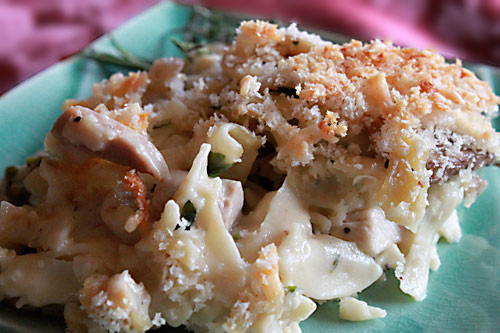 With that said, there were plenty of leftovers, and I love leftovers as much as I do Thanksgiving Day. The idea of all of the flavors setting into the dish, and being able to create great turkey club sandwiches, a panino, or pot pies, the ideas keep flowing around this holiday time, and this was no exception.
After some general reflection, I thought of something different this year. Turkey Tetrazzini. As I was making it, my wife's expression was priceless. She had noted that she has only had turkey tetrazzini in a previous employer's cafeteria, and it did not look, or smell like what I was making. She was seriously excited, and that made me giggle. Typically served with almonds, and a bit of lemon, I took a different twist on this that made it something truly special and one to remember. Simple techniques lead to really great flavors of this American classic.
Ingredients:
1 lb of egg noodles, cooked according to package
3 tbsp olive oil
4 cloves of garlic, minced
2 shallots, minced
1 lb of sliced button mushrooms
1/4 cup of diced flat leaf parsley
3 tbsp fresh thyme, leaves only
generous pinch of salt
generous pinch of pepper
4 tbsp unsalted butter
1/4 cup of all purpose flour
2 cups of chicken broth
1 egg yolk, beaten
1 cup of milk
1 tbsp brandy
2 1/2Â  cups of chopped turkey
1 cup of panko breadcrumbs
1/2 cup of grated parmesan cheese
1/2 cup of grated gouda cheese
Begin by adding olive oil to a large skillet and bring to a medium heat. Add in the shallots and garlic, and cook just until tender, being careful not to burn the garlic. Next add in the mushrooms and thyme, and thoroughly mix, cooking an additional 3-5 minutes. Salt and pepper, mix, then remove from the heat and set aside.
Next bring a small pot of chicken stock to about medium heat. As this is coming to temperature, melt the butter to a larger pot. Once melted, add in the flour and whisk well, cooking for a few minutes. This is making your roux. After the roux gets a light brown, add in the stock, and aggressively whisk to make a smooth sauce, being careful to remove any lumps.  Cook for a few minutes on medium heat. You will see the sauce begin to thicken. This is always a beautiful sign.
During this time, preheat your oven to 350 degrees. Lightly butter your casserole dish. Continue to whisk, then add in your egg yolk, brandy, and milk, mixing again for a few more minutes. Add the noodles and mushroom mixture to the sauce and fold everything to combine, making sure you sauce covers everything. Transfer to your casserole dish and top with the panko breadcrumbs and cheese mixture. Bake for nearly 30 minutes until it is nice and bubbly and you have a golden, crisp top.
Plate and serve. Perfect, comforting, and a great use of your turkey leftovers. Enjoy.