Sundays are a special day in my family, as I am sure it is a special day in many homes. They are typically lazy ones in my household, where we slowly get out of bed, watch a bit of TV, possibly head to church, then come back and have a warm meal. That is only one scenario, but there is something that always holds true, and that is we have a couple of nice warm meals throughout the days.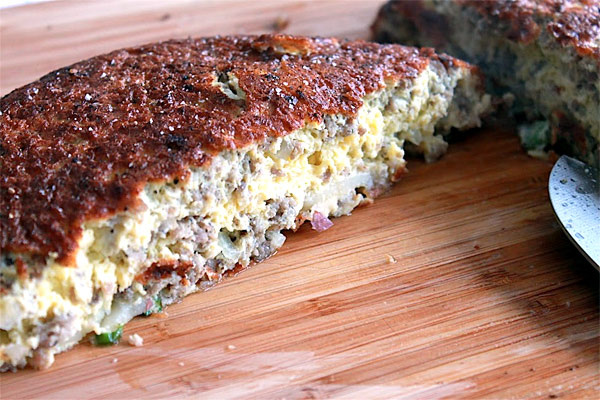 My oldest son is a picky eater, and it is almost ironic that as much as I cook, he typically refused most of everything. However, the remainder of the family typically enjoys to try new things, or old favorites. This past week was one of those Sundays where I wanted to put a twist on something that everyone enjoyed. My wife loves having a breakfast scramble with thinly sliced potatoes, onions, and eggs, and my other two kids love sausage and eggs, so I thought, heck why not try a twist on breakfast, serve it for brunch, and see how they react. Their reaction was very positive to the frittata, and why wouldn't it be? It is a super simple, one skillet meal, that can let you be as creative as you want to be. Typically created with eggs, meat, cheeses, and vegetables, your imagination can get pretty wild, and allow you to create wonderful, simple, and delicious meals in no time.
Ingredients:
7 large eggs, beaten
3 tbsp olive oil
1 tbsp unsalted butter
roughly one cup of ground sausage
pinch of salt
pinch of black pepper
1/4 cup of milk
2 green onions, thinly sliced
1 red potato or yukon gold, skin on, thinly sliced
1 small onion, thinly sliced
1/4 cup of parmesan cheese, grated
Begin by heating your skillet on medium-high heat. Add two tablespoons of the olive oil, and give the skillet a swirl. Add in the sausage, and let this cook. This will take a few minutes to brown, so try breaking it up as it cooks. In the meantime, bring a small pot of water to a boil and add the potatoes and onions, cooking just until tender. They should be finely sliced and will only take a few minutes to become tender. Drain the potato and onions. Now that your sausage is broken up and cooked, remove to a plate lined with paper towel to let any access fat be removed.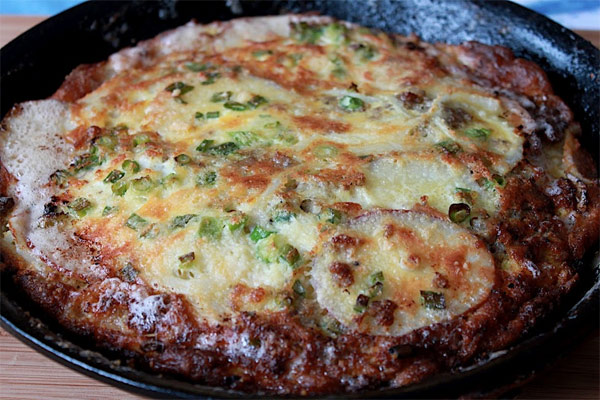 Preheat your oven's broiler to 450 degrees.
Return the skillet to the stove and add one tablespoon of olive oil, and the butter, and let them warm. Add the beaten eggs, give them a swirl, toss in the salt and pepper, green onions, sausage, and layer in the onions and potatoes. Cook this on medium heat, just until the edges begin to crisp. The center should be a bit loose. Sprinkle on the cheese.
Add the whole skillet under the broiler, and cook until the center has formed and all of the eggs have set. Typically 5-7 minutes. REMEMBER to use your hot pad when removing the skillet from the oven and plating. It will be extremely hot. With a spatula or wooden spoon, loosen the edges. Flip over to your serving board or plate and welcome the frittata. Cut into slices and serve.
You have just made something totally easy, and affordable in no time at all. This is a perfect way to use leftovers as well. Enjoy.