Shrimp and Avocado Salad on Crispy Wontons
Back when my wife and I were dating, I made here a really great salad. To this day, I have not forgotten that salad, as it was not only creative in how I presented it, but it was just full of great flavor. So recently, my wife just landed a great job, and after working so hard around the house for the last several months, I thought what a better way to show her how I felt for her, and one way to do this, was through this wonderful shrimp and avocado salad.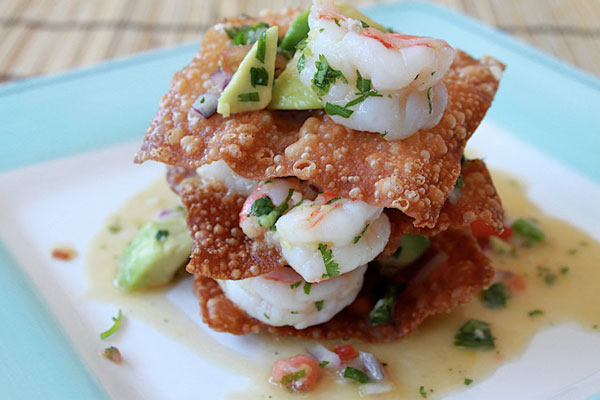 The ingredients are simple, yet when combined, really pack the fresh flavors that you would expect in every bite. I think that this might be my wife's number one salad nowadays, and I think I know why. Lets have you decide.
Ingredients:
1 grapefruit, juiced
1/2 lime, juiced
1/4 cup olive oil
2 tsp palm sugar (substitute light brown sugar if you do not have it)
1 tbsp white wine vinegar
1 tsp grated ginger
1/2 tsp black pepper
1/2 tsp kosher salt
2 tbsp canola oil, plus 1 cup for frying the wontons
2 cloves of garlic, minced
12-14Â  jumbo shrimp (known as 16-20s), peeled and deveined
6 wonton wrappers
1 avocado, chopped
1 roma tomato, chopped
1/2 small red onion, chopped
1/4 cup fresh cilantro, chopped
Begin by making the vinaigrette. To a large bowl add the grapefruit and lime juice, vinegar, sugar, along with the olive oil. Whisk until it is nice and creamy. Add in the ginger, salt, and pepper and set aside.
To a large skillet, add the two tablespoons of the canola oil and bring to a medium to high heat. Add in the garlic, cooking to release a bit of the aroma, about a minute, then toss in the shrimp. Cook for about 6-8 minutes, or until it is a nice pink color, being careful not to overcook them. Remove from the skillet and place them in a bowl, setting aside to let cool.
Clean out the skillet and add in the cup of oil, bringing it back to a medium heat. Add a couple of the wontons, only cooking for about 30-60 seconds per side as they brown quickly. Remove them from the oil, and place on paper towels. Repeat with the remaining wontons.
Add the chopped onion, avocado, tomato, and cilantro to the vinaigrette. Add the cooled shrimp and garlic to the mixture, and stir to combine all of the ingredients. Place in the refrigerator for about 15 minutes to let all of the flavors set in.
To plate, add one wonton as the base. Top with some of the shrimp and vegetable mixture. Add another wonton to that, and repeat. Repeat with one more wonton and salad mixture. Drizzle a bit of the grapefruit vinaigrette around the base, and serve.
My wife likes to eat the salad by picking up each wonton and eating it that way, while I just break right into it. However you stack it, this salad is not only refreshing, but it is really light, and delicious. Throw in some chopped mangos, or pineapple, and you have got yourself some more creative work. I hope you enjoy.