I found it pretty humorous when I was wrapping egg rolls at the table and my wife looked at them with excitement. "Are you making egg rolls?", she said. Without sounding like a smartalec, I said, "yes, but I am making Mexican egg rolls". She got even more excited and said "Oh my gosh, my favorite, Mexican and egg rolls!".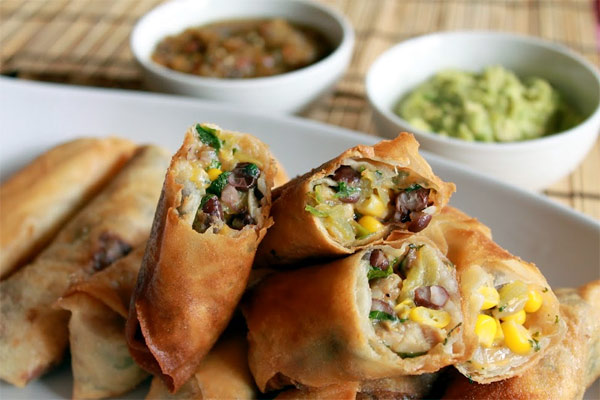 She was right, and I knew I was onto something here. I woke up one morning and after scanning my pantry, refrigerator, and freezer, I immediately knew what I was going to create. The Mexican egg roll, or for that matter, mini chimichangas.  This throw together concoction packs some great flavor, and a nice twist on your traditional Asian egg roll.
Ingredients:
4 boneless, skinless chicken thighs
1 medium onion, diced
2 cloves of garlic, minced
3 tbsp canola oil
1 cup of frozen corn
1 cup canned black beans, rinsed and drained
4 1/2 oz of canned green chilis
2 serrano chili peppers, stemmed and seeded, finely diced
1/2 cup of cilantro, finely chopped
1/2 tsp cumin
1 tsp kosher salt
1/2 tsp black pepper
1 cup of shredded colby jack cheese
Spring roll wrappers, (my favorite)
1 large egg, beaten
4 cups of canola oil
Begin by adding three tablespoon of oil to a large skillet. Heat on medium to high heat then add in your chicken thighs. Cook for about 6 minutes per side, or until it is fully cooked. Remove and set them on a plate. Add in the onions, garlic, black beans, serrano chilies, green chilis, corn, cumin, and salt and pepper, and mix well. Add a bit of water, and cook on medium to low heat until the onions are tender, and the corn and beans are heated through.
Remove the mixture from the stove, and place into a large bowl and let cool. In the meantime, chop up the chicken thighs into fine pieces. Place the chicken into the bowl with the rest of the ingredients, and now add in the shredded cheese.
Heat a pot of oil on the stove to a medium high heat. Now it's time to begin wrapping as the oil heats up.
Take a spring roll wrapper, with a point facing you, and add about four tablespoons of the mixture about two inches in from the nearest point to you. Fold over, tucking the mixture in, and begin rolling. When you have about 3 inches remaining, brush the egg mixture on the top most area, and on the sides. Fold over each side, tighten, then do your final roll. Make sure the roll is sealed by gently rubbing the final roll area, and making sure the egg mixture, or what I call the glue, adheres to the wrapper.
Repeat until the mixture is done. This makes about 12 egg rolls.
Add a few of the Mexican egg rolls into the hot oil, and cook until the wrappers are golden brown, about 4-7 minutes. Remove them and let them drain on some paper towel, upright in a strainer, if you can. Repeat.
Let these sit a few minutes as they are really pretty hot from frying. When you are ready to serve, place them on a serving plate, and serve with your favorite guacamole and fresh salsa. Trust me when I say this, these are rockin' and did not last long when served. The sweetness of the corn, balanced with the subtle heat from the chilies, and the creaminess of the beans, made this perfect when topped with the guacamole and fresh salsa. Enjoy.