This past Memorial Day weekend was simply a blast. You could not ask for better weather in Milwaukee, and the food, family, and entertainment factor was just fantastic. If you are like me during this time of year, you consistently think of what to marinate to throw on the grill, or what to bring to a family party. But this past week was really special as my wife and I celebrated our tenth wedding anniversary.  With that said, my wife wanted to present me with a great gift, which unfortunately did not work out for the house, and one of which I had to return. This allowed me to find something else to replace it with; that being said, I replaced it with an ice cream maker and a dutch oven. I cannot tell you how excited I was about the purchases!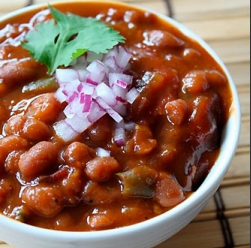 So as I looked at this thing of beauty, my first thought was what I was going to make in it. I wanted something low and slow, and as I knew we were hosting a lunch for family on Memorial Day, I already knew I was making pulled pork. I had it! A killer pot of baked beans done southwestern style.
The beans were so delicious with just a bit of heat from the jalapenos, and the great balance of sweetness really made this a home run in my book. Let's get started.
Ingredients:
1 large onion, diced
1 green bell pepper, seeds removed, diced
2 cloves garlic, minced
3 jalapeno peppers, seeds removed, diced
8 slices of thick bacon, cut into squares and cooked, reserve about 2 tbsp of bacon grease
3 28oz cans of Bush's Baked Beans
1 cup of your favorite bbq sauce, or make your own
3/4 cup of light brown sugar
2 tbsp molasses
2 tbsp dijon mustard
ham hock, optional
red onion, diced
Begin by heating up your large pot, or in my lucky case, the dutch oven, on medium heat. Once heated, add in the cut up bacon pieces, and toss. Cook, low and slow until nice and crisp. During this time, prep your veggies and garlic. When the bacon is cooked, remove with a slotted spoon and place on some paper towel to let any extra grease drain.
Remove all but a couple of tablespoons of the bacon grease. Add in the onion, garlic, bell pepper, and jalapeno, and cook on medium heat for about 5-7 minutes, stirring from time to time, making sure you use your wooden spoon to scrape any of those great brown bits from the bottom. Add in the beans, brown sugar, molasses, hot sauce, dijon mustard, as well as the barbecue sauce. Mix well, and reduce the heat to low. Add in the ham hock if you have one. I always save one from Easter time, either for a dish like dish or split pea soup, and it adds great flavor, and a bit more texture.
Top with the crumbled bacon. Cover, and preheat your oven to 300 degrees.
Use your hot pads and lift this lovely mass into the oven, to cook for two and a half hours. Remember, this is a low and slow kind of meal, especially if you are going to make pulled pork sandwiches.
After cooking, remove it from the oven, and place on the stove. Serve family style, or have them serve themselves, topping with a bit of the fresh red onion for extra texture and crunch.
These beans remind me of why we enjoy summer, family, and really great food. I hope you enjoy.