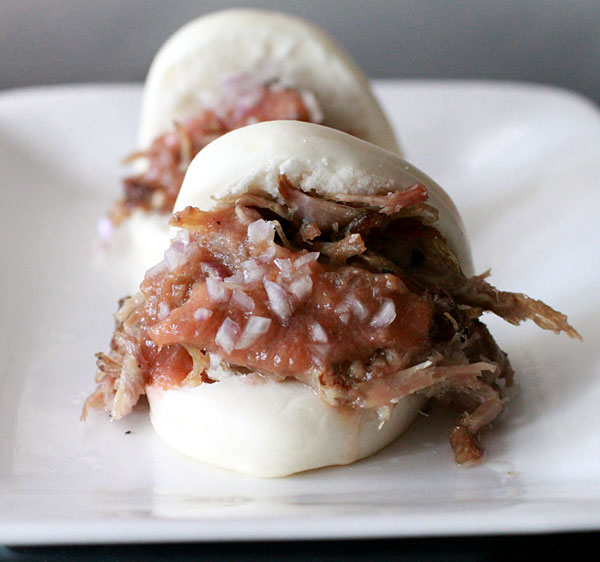 I, as many here in Wisconsin, have been waiting for spring to arrive. It's finally here, and as we are blessed with wonderful weather, we are also blessed with farmers' markets. Spring time in Wisconsin is probably my favorite season of the year, with fall being a close second. Spring time just has this thing about it. Maybe it is the fact that everything is beginning to blossom, or that we can begin planting in our gardens, or just maybe, the smell of the cool air. Maybe it is as simple as the morning bike ride to visit to the farmer's market on Saturday. Yeah, that's it.
I was excited to see the signs in the neighborhood that the farmers market was opening this past weekend. I love waking up early in the morning, before everyone else, and getting on my bike to head over to the market. It is less than a couple of miles from my house, so it is a nice ride to wake me up. As our farmer's market is small, there are two farm stands that I really enjoy buying from. One is a larger one where they have an abundance, and an array of fresh produce and herbs, and the other, a bit smaller, but offers different produce during the the season. I had one thing in mind that I wanted to purchase this past weekend, and that was rhubarb.
Rhubarb is in season right now, and as my kids have never tried rhubarb before, I thought that I could offer a sample and see how they would like it. I recall growing up and having rhubarb growing wild in our backyard. I had no idea what it was until my dad had pulled a stalk, and with that dad tone said "never eat the leaves!". I have no idea why one would even make an attempt to eat the leaves, but we understood his point. After all, the leaves of the rhubarb plant are poisonous. But it was the stalk  that we could eat, and wow did it pack a tartness like I've never had before. Well, let's just say that the  tartness overwhelmed my oldest son. He liked it, but did think it was a bit too tart. With that said, I thought I would sweeten it down a bit and make a barbecue sauce!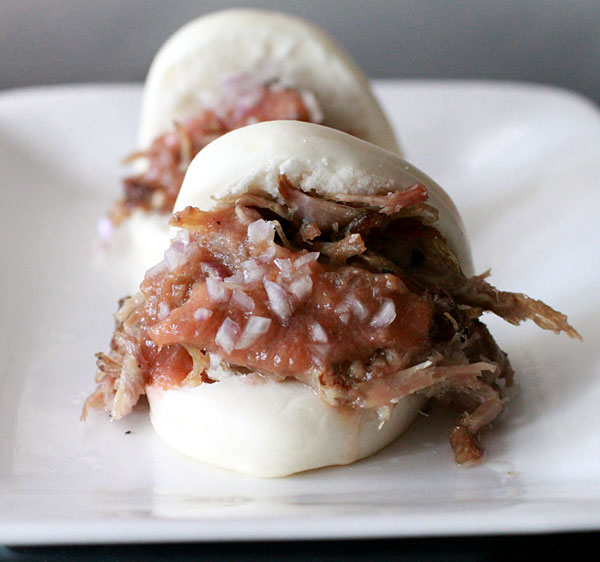 Pictured above: Pulled Pork BBQ Sliders in Asian Steamed Bun Topped with Rhubarb BBQ Sauce and Minced Shallots

Ingredients:
1/2 tbsp olive oil
6 cloves of garlic, minced
1 large shallot, minced
1 tsp red chili flakes
6 ribs of rhubarb, cleaned and chopped
1 cup of ketchup
1 tbsp dijon mustard
1 cup of water
1/2 cup of light brown sugar
pinch of salt
pinch of cracked black pepper
Begin by heating up the oil in your sauce pan on medium heat. Toss in the garlic and shallots and let them cook for about 4 minutes. Add in everything else, give a good stir. Bring this to a simmer, stirring on occasion, and cook for about 30 minutes.
If you have an immersion blender, use it, blend everything until you have a nice and smooth sauce. If you do not have an immersion blender, carefully pour the mixture into a blender or food processor and blend until you have a smooth sauce.
Let it cool before storing in your refrigerator for up to two weeks. Feel free to freeze some as well as this makes plenty.
Use this as you would like any other barbecue sauce. For me, well, my kids are really into pulled pork, so that is the direction I went with. We love eating pulled pork sandwiches by steaming lotus leaf buns that you can purchase in the frozen section of your local Asian market. Basically you steam them for about 10 minutes, open them up, and pile your pork in there. Top with the sauce, and repeat. My kids tore through these like they were going out of style, and the rhubarb barbecue sauce is pretty fantastic. It's sweet, with a bit of tart, and to me, that is a pretty amazing sauce when you can get that type of balance.
So if you have rhubarb growing in the backyard, or if you find some at your local farmer's market, pick some up and make this barbecue sauce. I know you will love it! Plus it is a nice surprise that your family or guests will be inquiring about.