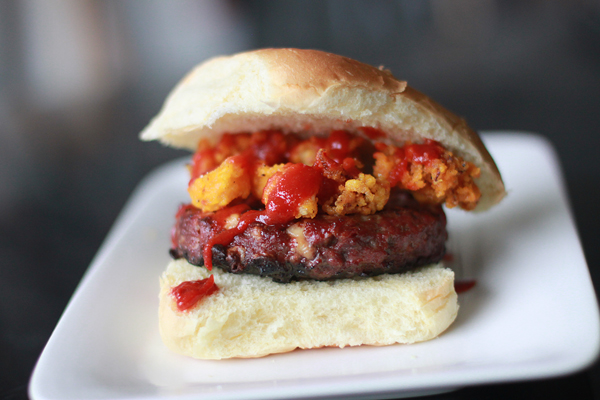 Sriracha and Calamari Burger
Tailgating season has finally arrived. For those of you who have never tailgated, well, you might consider visiting Milwaukee, Wisconsin during the summer, or heck, even winter months, and introduce yourself to one. Tailgating, at least to me, is a time where you can relax outdoors in a sporting environment with friends and family. At Miller Park in Milwaukee, you can arrive three hours in advance of every Milwaukee Brewers baseball game, only to get your grill(s), games, and coolers out, and sit back, relax, and enjoy really great food and drinks. Let's just say it is a fun time. It's a really fun time.
This past gathering involved the extended family. Most everyone was present which makes it an even better time. Sure, tailgating with my wife and kids is a blast, but when you involve grandparents, cousins, and siblings, well, it gets better. So, like everyone else, someone makes something to bring to the tailgate. By default there are bratwurst, buns, and beer. There are a few hot dogs placed on the grill, a couple of burgers with condiments, and well, me, I brought Filipino BBQ and heavily seasoned onions on skewers. But there was one burger our cousin wanted us to try. It was the Sriracha burger. I won't even go into trying to pronounce how he was trying to pronounce it (it was obvious he has never tried Sriracha before), but it caught my attention right away. It caught my attention enough to make one the following day, and make it my way, it was just that good.
Let's get started.
Ingredients:
1/4 lb ground sirloin
1/4 lb ground chuck
2 tbsp Sriracha sauce
1/4 cup of cheddar cheese, cut into small cubes
Fried Calamari, optional
Good hamburger bun
Extra Sriracha sauce
Generous pinch of salt
Begin by forming your patty. Gently mix the ground sirloin, chuck, Sriracha sauce, and the cheese together. If you have a burger patty press, use it, otherwise make every attempt to make a darn good looking patty. Season both sides with salt.
Heat your charcoals and get your grill started. Get the grill grates nice and hot. Add your burger and get a great sear on it, roughly four minutes untouched, per side. Cook to your desired tenderness.  Me? I'm a medium kind of guy. When the burger is ready, top with the fried calamari, drizzle with extra Sriracha sauce, and dig in.
This burger is hard to beat. It's surf and turf at its finest, that, with a a great salty heat from the Thai chili sauce. It the great crunch from the calamari then the juiciness from the ground meat. Let's just say this burger is a really great one, and is perfect for any tailgate. Hope you enjoy.