If there are a couple of ethinic foods I could live off, I think it would have to be Thai food and Mexican food. Hands down. They both offer comfort dishes as well as a spice that seems to be needed in my weekly diet. As I was sitting around one Saturday morning, I decided I would make some salsa. Not sure why, but probably just to have out and serve with some chips and guacamole for lunch. I love making salsa, and some of my favorite ones are my roasted red salsa, a poblano salsa with chocolate, and believe it or not, an olive salsa. But when thinking about knocking out the roasted red salsa (my go to salsa), I thought, what if I added some Thai flavors to this, what would it taste like?
That's when things got exciting. Let's get started.
Ingredients: [Print this Recipe]
4 Roma tomatoes, halved
3 tomatillos, halved
1 onion, halved
5 cloves of garlic, skin on
2 Thai chili peppers, whole
2 kaffir lime leaves
2 tbsp lemon grass
1 cup of cilantro
olive oil
salt, to taste
cracked black pepper
1/2 cup of water
So, you might be thinking to yourself, 'where the heck do I get lemongrass and what the heck is kaffir lime leaves?'. Don't worry. Find your local Asian store. Most small er towns, or cities have a few of them. They are pretty much staples. Lemongrass looks like this, and kaffir lime leaves look like this. Both of these ingredients, along with the Thai chili peppers will infuse the salsa and make it something special.
Start by getting putting your tomatoes, tomatillos, onion, garlic, and chili peppers placed on a roasting sheet. Drizzle with some olive oil and sprinkle with some salt and pepper. Preheat your oven to 475 degrees. Once heated, place your pan in the oven and cook for about 20 minutes or until all of the veggies look nice and roasted.
During this time, if you have a mortar and pestle, use it. Add the lemongrass and kaffir lime leaves, and begin working it into a paste. This will take a bit of muscle. Â Once you have it into a paste, or at least broken down the best you can, set it aside.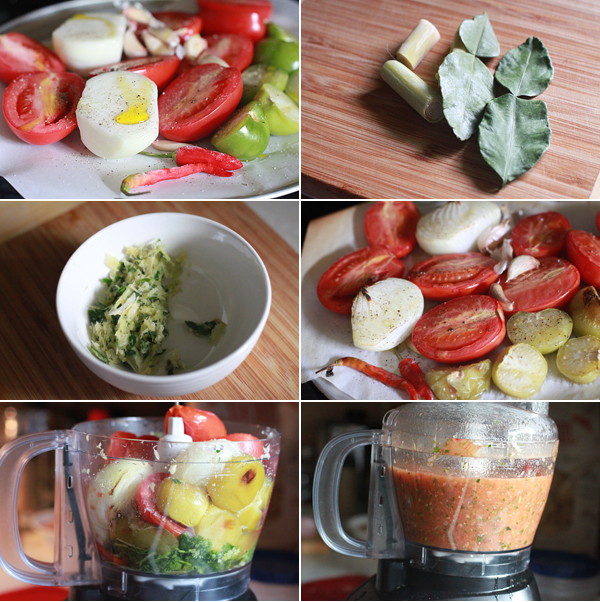 When the vegetables are done roasting, remove them from the oven, and let them cool for about 15 minutes or so.
Get out your food processor, or blender. Squeeze out the garlic into the food processor and discard the skins. Add in the tomatoes, tomatillos, onions, and chilis. Toss in the lemongrass and kaffir leave mixture, along with the cilantro. Give a nice pinch of salt and pepper to the mix, and add in the water.
Turn that processor on and buzz it into a nice salsa consistency.
Give it a taste. Bang! Right away you are hit with these wonderful Thai flavors (and the heat from the chili). Taste for salt, and adjust if necessary.
The end result is nothing but amazing. It's everything you would expect in a salsa, but then these possibly unknown flavor creep in there. The citrusy heat from the Thai chili, and those kaffir lime leaves… Well, this one will have you thinking about salsa in a whole new way. Hope you enjoy.