I am a big fan of Asian cuisine. Whether it be Thai, Chinese, or Vietnamese, just count me in. There are plenty of dishes that I could rattle off that I simply love, but there is one dish that I love that is consists of noodles, minced meat, a bit of gravy, and fresh herbs. This dish can be translated across many Asian cultures and as I normally had this dish in a Vietnamese restaurant, there is one that I found in a Chinese dish known as Dan Dan noodles.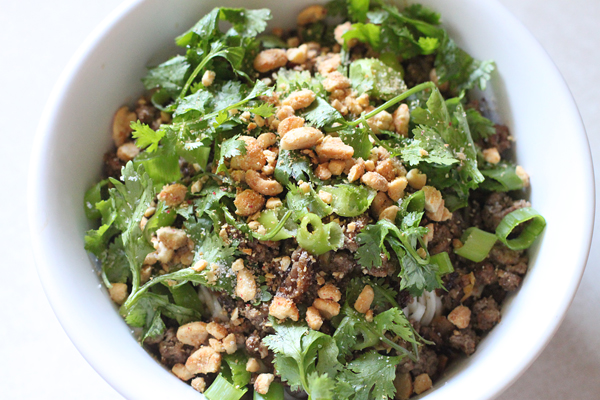 Ingredients: [Print this Recipe]
1 1/2 lb ground chuck
1 tbsp canola oil
1 tbsp fresh ginger, minced
5 cloves of garlic, minced
2 tbsp spicy Kimchi, chopped
4 green onions, chopped, and divided between white and green parts
2 tbsp Chinese rice wine
1 lb Chinese noodles, cooked until al dente
1/2 cup of chopped peanuts
Fresh cilantro
Ingredients for the Sauce:
2 cups of chicken stock
2 tbsp soy sauce
1 tbsp Tahini paste
4 tbsp chili paste
1 tbsp dark sesame oil
1 tbsp palm sugar
1 tsp ground Sichuan pepper
1 1/2 tbsp balsamic vinegar
pinch of salt
Start by making the sauce. Combine all of the sauce ingredients into a sauce pan and cook on low for about 25 minutes, stirring along the way. Once it comes to a simmer, keep it cooking on very low heat so that it remains hot.
During this time cook your noodles to al dente, then rinse with cold water, strain, and set them aside.
Next, add the oil to a large skillet and bring that up to a medium to medium high heat. Add in the garlic and ginger and stir that for a few minutes. Toss in the white parts of the green onion, as well as the kimchi and give that a stir. Â Next add in the ground chuck, and with a wooden spoon, begin breaking that up. Continue cooking the meat on medium high heat. You want it to caramelize and crisp up. Once you crisp up the ground chuck a bit, toss in the Chinese rice wine vinegar, and give that a good stir.
OK, now we are ready to serve. Get an individual serving bowl out and add in some noodles. Next, add a generous amount of the meat mixture, then give a nice ladle full of the sauce. Top that with fresh cilantro, the green onion, and some of the chopped peanuts.
The flavor of these Dan Dan noodles are rock solid. You get the comfort from a bowl of Asian noodles, but then you get this peppery aroma and spice from the Sichuan pepper. That's alright though because the freshness of the cilantro and the texture of the peanuts take this one to the next level. And heck, who thought you could use ground beef in a Chinese recipe, hey?
The ingredients sounds like a lot, but trust me, this goes fast, is simple to make, and is great any day of the week! Enjoy.