You might not be familiar with the title of this post and you are probably thinking 'what the hell?'. Don't worry, that's why I am here. It basically translates to 'awesome sandwich', or better yet ]Chinese barbecue pork tucked into everything amazing with a Vietnamese sandwich. I wanted to make this sandwich for a couple of reasons. First, I had some leftover char siu because the kids were freaked out by the pink color of the pork. Afterall, it's only red food coloring, but oh well, and on a second note, I love a great banh mi sandwich. I've been making banh mi for some time now, everything for a great Asian pork banh mi, to a breakfast banh mi. After visiting a local market in the area, known as Pacific Produce, I had to have a banh mi. I always have to have a banh mi when I visit there, and in my opinion, they make the best banh mi in the Milwaukee area. Not only are they cheap, but they are legitimate with their bread, and ingredients. So after I enjoyed every bit of that banh mi, I went home and  pickled some carrots and daikon, only to get ready to make some banh mi!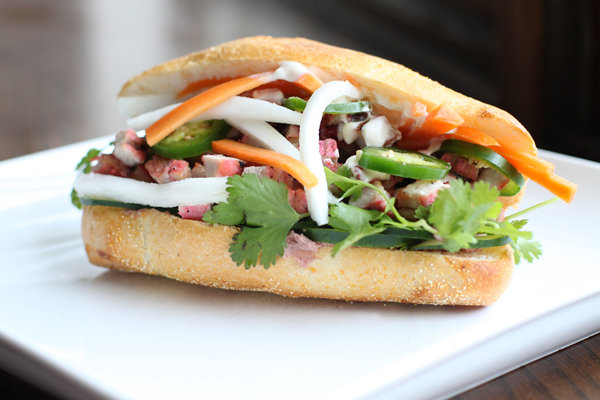 Let's get started.
Ingredients for Char Siu:
Pork shoulder, cut into about 2 inch strips (I used thin pork chops)
2 tbsp dark soy sauce
2 tbsp light soy sauce
2 tbsp oyster sauce
2 tbsp rice wine vinegar
3 tbsp honey
2 tbsp brown sugar
4 tbsp hoisin sauce
1/2 tsp Chinese five spice
1/2 tbsp red food coloring
To a bowl, everything but the pork chops, and mix well. Add the pork to a gallon sized ziplock bag, adding the sauce. Give the pork a nice massage, making sure you incorporate the sauce onto the pork. Seal the bag, removing as much air as possible, then tuck it away in the refrigerator for the night.
The following day when you are ready to make the pork, remove it from the refrigerator about 30 minutes before placing it on the grill. Heat your grill, and cook until the pork is cooked, about 12 minutes. Chop the pork.
Ingredients for the Banh Mi:
1 fluffy baguette (I used a bolillo roll as good Vietnamese bread is hard to find)

1/4 cup of Braunschweiger
1/2 cup of fresh cilantro
6 thin slices of fresh jalapeno pepper
1/2 cup pickled daikon and carrots
8 slices of cucumber
1 cup of char siu, chopped
2 tbsp mayonnaise
Take your whole baguette, or bolillo roll and warm it in a 350 degree oven for 3 minutes.
Slice the roll in half, and smear the braunschweiger on the top of the bottom roll. Top the braunschweiger with the sliced cucumbers, then cilantro, the chopped char siu, fresh jalapeños, the pickled carrots and daikon, then smear the mayonnaise onto the top roll.
Dig in. Any bite into a Vietnamese banh mi is amazing. This one is just as amazing. You get that great heat from the jalapeño but it gets transformed by the pickled vegetables, the sweet Chinese char siu, and then the freshness of the cilantro and cucumber that is only trumped by that wonderful braunschweiger. As I continued to eat this sandwich, I thought, this is probably one of the best sandwiches out there, and yet so many have taken a chance and had one. Two words. Make this. This Char Siu Banh Mi is awsome!