Flagship Pineapple Corer and Slicer – Product Review
I was thinking lately that I really never have participated in product reviews, and well, I think it is time to give my thoughts on various items that I use on a regular basis, and really determine if they are worthy of a review. Much like many of you, I probably have tried various gadgets, knives, and other utensils that I often get excited about when purchasing, but only to come home and have them fail, and get disappointed. Now I know I could log into Amazon and give my reviews, and I have in the past, but I thought I would use my site as an opportunity to share as well. This is one of them, and it is my experience with the Flagship Pineapple Corer and Slicer.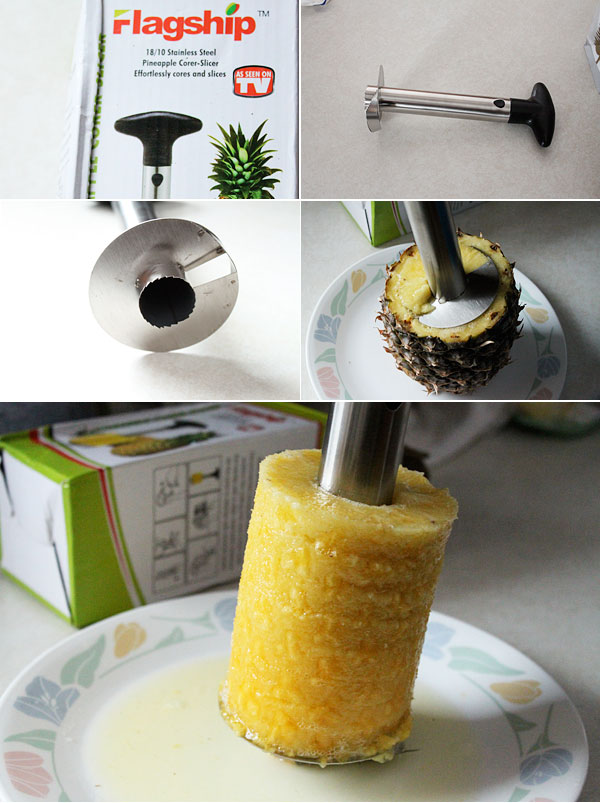 The product is simple, take it out of the box, snap in the top part of the handle, and you are ready to go. I typically only purchase fresh pineapple when they are on sale. To me, there is nothing better than freshly sliced pineapple, and as I am aware that you can purchase pineapple in plastic containers, well, I'm just not a fan, especially not knowing when they were sliced. As I recently purchased a pineapple from El Rey, I decided to use this corer. I should also note that in the past, I was never a fan of slicing the flesh of the pineapple, not knowing how dirty it could be, and then slicing into the flesh. This product allowing me to not even touch the flesh, only to discard it.
The goal is to slice the top of the pineapple to expose the yellow fruit. Insert blade of the corer into the top, and begin turning it, which is an easy process due to the dual blade, and twist until you have reached near the bottom. Simply lift up and out, and you have yourself a super clean, cored pineapple, along with the rings of the fruit. Yes this thing even provides pineapple rings! The core remains within the corer so you just push it out and discard. It's genius.
This Flagship pineapple corer and slicer removed 99% of the fruit, leaving only the shell. My wife and I were giggling because of how easy it was, plus cleanup was a cinch! The juice from coring remained on my plate, so that I could use it later, and was not running all over my cutting board as if I were simply running my knife down it and cubing it as I would have in the past.
Toss the shell, run warm water throughout the blade, and you are done.
Am I happy with this product? Yes, I am, and I believe I picked this up online for only like six dollars, if not something under ten. Well worth it in my opinion in terms of ease of use, clean up, and quality control.