Let me begin by saying that our daughter has always wanted a dog, always. She would bring home dog books and research every dog to see if they were hypoallergenic as my wife has some fairly bad allergies when it comes to dogs and cats. My daughter would also draw pictures of various dogs, pretty much all the time. She dreamt about them, and after a couple of years of this, my wife and I decided to do our research and give our kids, especially our daughter, a surprise she never knew coming.
Meet Odin.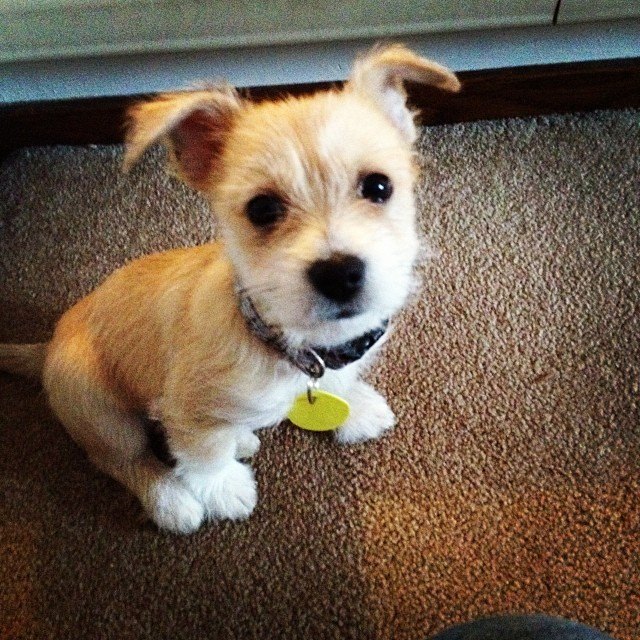 It was shortly before Christmas, which was perfect timing on our part, and I had been casually searching the Wisconsin Humane Society's website. We wanted to rescue a dog, that was our goal. We had never been through the process, so we found a dog that we liked online, and a couple of days later, I drove there after work to inquire about the dog. He was already taken. As I was a bit bummed, I learned from the staff that dogs typically go fairly quickly. That was good to know because I knew that if we were to find another one, we would have to move quickly.
There was one late afternoon, where I figured I would go online. Three terrier mix puppies were available. I quickly called my wife who was out doing some late Christmas shopping, and I said we had to go. She quickly drove home, we lied to our kids that we had to go somewhere, and we took off.
When we entered to view the dogs, we found the room, and sat there and watched, for about 25 minutes, and then we scheduled a visit with one of the staff members. We went back and continued to watch the three dogs, two of which were a bit hyper and aggressive, and then there was Odin. We was the runt of the bunch, and he was getting picked on by the other two quiet a bit. We wanted him.
The process was quiet intensive, and the staff asked a ton of questions as to how we were going to take care of it, training, etc. I was quiet pleased with their process. After about a hour and a half of being there, we purchased a handful of items, and took off to surprise our kids.
When we arrived home, my wife entered the house to gather the kids, as I was going to go to the front door with the dog in my arms. My wife was supposed to get her video ready on the phone to capture the experience (she forgot to the flip the mode to video, and ended up with blurry images). When the door opened, I saw the look in my daughter's eyes. She was in heaven. The jaw fully dropped and possibly a tear in her eyes. That was worth it alone. My other two boys were not that surprised, and I think one actually said something like "Really, a dog? Why?".
This is the same boy that loves him up and plays with him all of the time now.
Odin has been a real champ. He's battled a couple of puppy issues with the vet already, but hopefully on his way up. My daughter baths him with no issues, and well, I have been watching endless hours of Caesar Millan's "The Dog Whisperer".
Needless to say, our family is now complete and my daughter's dream has came true.
We have a long way to go, but his last vet visit (they love him), everything was great, and he was growing just fine. Now all we wait for is Spring time where we can walk on his walking and social dog skills. He's been cooped up in the house as it has just been too darn cold to walk him outside. Needless to say, myself and the kids throw the ball with him quiet a bit to wear him out. He's super fast, and super smart, and he still has a lot of puppy in him.
We just love him up. He's got great color, big pretty eyes, and neat ears. He's already learning to sit, and stay, however he has taken off outside three times now as my kids have not paid attention. He hasn't gone far, probably because it is just too darn cold.
If you have any tips on training a puppy, I'm all ears!