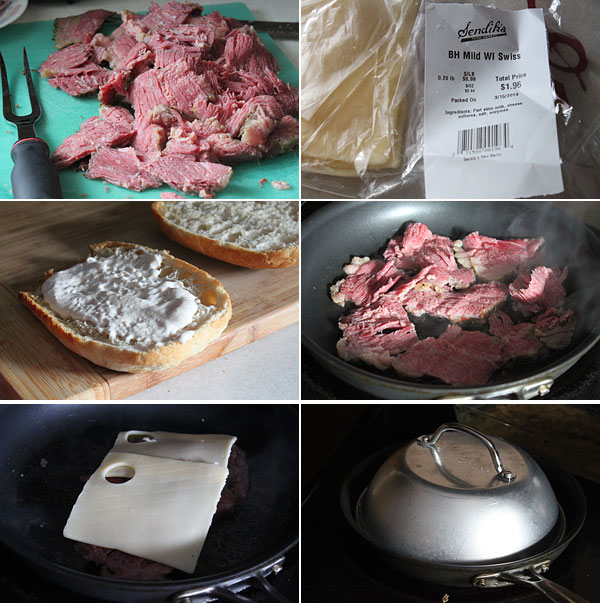 Corned Beef Hash Quesadillas
This Monday was St. Patty's day, a day that I have pretty much grown to love, primarily for the sale of corned beef. I've said it from time to time on this site that my wife is not a big fan at all of corned beef. How does that make me feel? Well, pretty good, seeing that I can eat the majority of it throughout the week. Unfortunately this week, I've been laid up with pneumonia of all things, and on St. Patty's day of all days. After a few days of slightly improving, and getting an appetite, I decided to use some of the corned beef hash I had made on Sunday, and turn it into a brunch item.
I had big ideas to make things throughout the week, however the pneumonia has just brought be down for the count, but I was lucky enough to at least get this one in. Hopefully next week I will be in much better shape. This is my take on corned beef hash quesadillas, and wow did they ever turn out great.
Let's get started.
Ingredients for the Corned Beef Hash:
1 Idaho potato, peeled, and cubed, and cooked until softened
2 cups of cooked corned beef, sliced and diced
1 large shallot, chopped
1 clove of garlic, minced
1/2 tbsp worchestershire sauce
salt, to taste
cracked black pepper, to taste
1 tbsp unsalted butter
Ingredients for the quesadilla:
4 flour tortillas, standard size
4 slices of Swiss cheese
1/4 cup of shredded cheddar jack cheese
Cooked corned beef hash, warmed
2 tbsp Thousand Island Dressing
1 tbsp horseradish sauce
To make the corned beef hash, add the butter to a large non-stick skillet, or use your cast iron if you so desire. Once melted, add in the potatoes, corned beef, garlic, and shallots. Â Get a nice golden color on those potatoes and onions. Season with the worchestershire sauce, a bit of salt and pepper. Give a taste and season to your liking. Set aside.
Start by heating up a skillet on medium-low heat. Add two tortillas to the skillet, stacked on top of one another. Top with two slices of the swiss cheese, then the cheddar jack cheese.
Top with the cooked corned beef hash, as much to your liking, top with the the remaining two slices of Swiss cheese, then the other two tortillas.
You are probably thinking, why double up on the tortillas, right? Well, in my opinion, the single tortilla does not hold up to the corned beef hash, that's all.
Make the sauce by adding the thousand island and horseradish sauce together. Mix into a small bowl, and set aside.
Carefully look under the bottom tortilla and look for a golden brown. Once golden, carefully flip, and cook the other side until golden.
Slice, and serve with the dipping sauce.
I can't say enough how awesome this corned beef hash quesadilla was, not only that but a little dunk in the sauce just blew my mind (and opened my airway a bit, of which I needed). If it were me, I would be serving this for breakfast, lunch, and dinner. It was extremely satisfying, and lifted my spirit, and appetite. Just what I needed during this time of illness. Hope you enjoy!