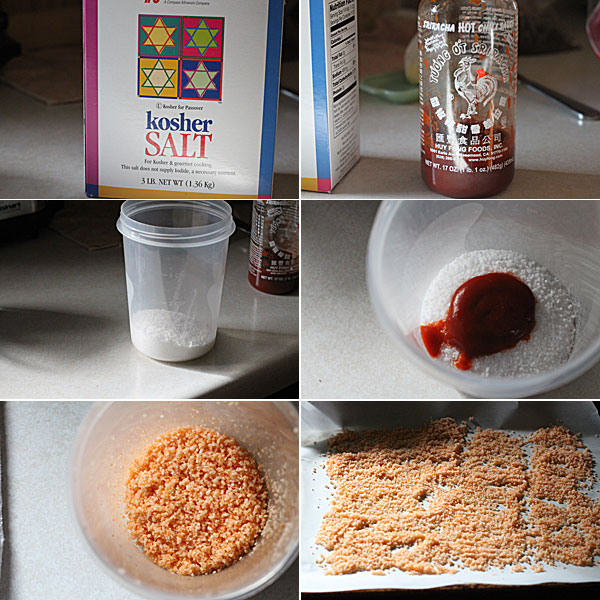 I am still a big fan of Sriracha. I think a lot of us are, especially ones that enjoy that bit of spice with their food. I put it on pretty much anything when I am in the mood. I think there was a big scare not too long ago as well with the idea that the Sriracha plant, Huy Fong, was going to shutdown. I was a bit skeptical as Huy Fong is a hot sauce giant, but I decided I would stock up on a couple of bottles, just in case. With that said, I was nearing the end of one of my bottles, one of many hot sauces I keep on my kitchen table's lazy susan, and decided to use that and create Sriracha salt. Yes, Sriracha salt.
This salt is so good, and really easy to make. It is not spicy as is the salt, but it adds just this slight heat and vinegar to the salt, that makes it almost as addicting to the condiment itself.
Let's get started.
Ingredients:
1 cup Kosher salt
2 tbsp Sriracha sauce
Parchment paper
That's it. I said it was simple.
Add the salt to a container with a lid. Squirt in the Sriracha sauce. Tighten the lid, then shake, vigorously.
Pour the salt onto a baking sheet lined with parchment paper.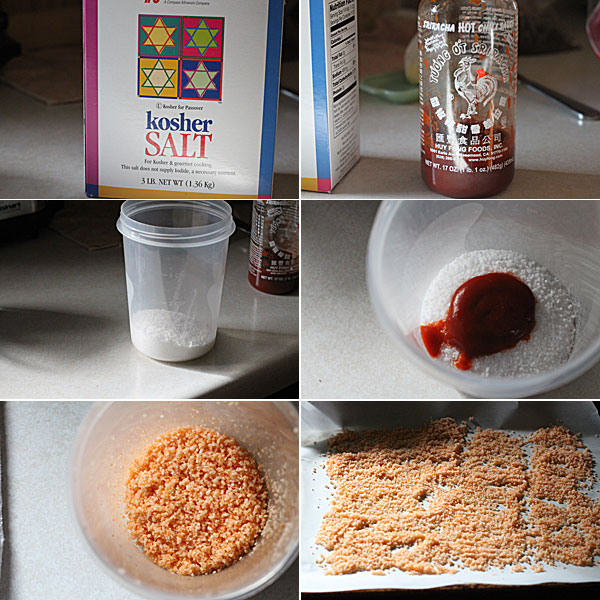 Make an even layer with the salt, then set on the counter for 24 hours. When ready, pour the salt into a container, and use as you would with regular kosher salt.
I've used this on ribs prior to smoking, omelets, Â and well pretty much everything. Give this one a shot, especially if you are getting ready to enter a fresh bottle of Sriracha sauce.