A couple of weeks ago we were invited to one of the family's annual pool party. With that said, I needed to come up with something to make. I normally do a spin on one of my taco dips, but this year I wanted to make something different. That's when I immediately turned to all of the mint growing in my garden. Let me just say this, I have a TON of mint. I normally use the mint in dishes such as larb, or give handfuls to my daughter when she picks fresh raspberries from the backyard, but here I wanted to make a dip, using mint, and that is when I came up with a feta cheese and mint dip. It was great.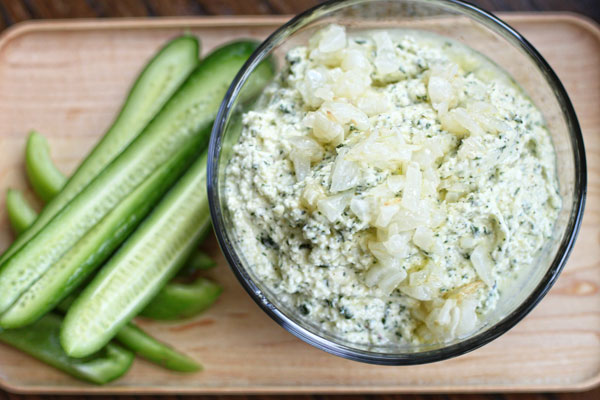 The great thing about this dip, besides all of the wonderful flavor, is that you can serve it with pretzels or chips, or better yet, some nice garden vegetables.
Let's get started.
Ingredients:
8 oz feta cheese, crumbled
1 lemon, juiced and zested
4tbsp olive oil
2 tbsp fresh mint, finely chopped
1/2 onion, diced
1/2 tsp cracked black pepper
1/2 tsp dill weed
Fresh vegetables
Pita chips
This recipe is super quick to make, so lets get busy.
Heat a skillet on medium heat. Add in one tablespoon of the olive oil. Â Once heated through, toss in the onions, and cook just until they begin to caramelize. Remove from the heat and set to the side.
To a mixing bowl, add in the cheese, lemon juice and zest, mint, dill weed, and cracked black pepper. Using a fork, begin mashing all of the ingredients.
Slowly add in the olive oil, and half of the cooked onions. Â Stir until you have a lightly creamy texture. Â Scoop the mixture into a serving dish, and garnish with the remaining cooked onions.
Serve with pita chips and fresh cut vegetables.
The result is a well balanced dip that has that great punch of feta cheese, while the mint just takes it into a whole other direction. Give this one a shot if you are looking for something other than a taco dip to bring to a party, especially if you love feta cheese. I wish I would have made more as this would probably be great on a grilled burger. Hope you enjoy!