Homemade Buttermilk Pancakes
We have been buying Eggo brand chocolate chip pancakes for years now. I have no idea why. My boys stopped eating them a few years ago for whatever reason, but my daughter is still in love with them. I think it is a habit when I go to the store, only to think that we are out of pancakes. This recently just stopped, however, as my coworker was talking about how he batches out a bunch of homemade pancakes every weekend and freezes them. Genius. I was now curious why I never stopped to think about doing that as after all I've made pancakes, and homemade waffles in the past. Now it was time to batch these out on a Sunday morning with my son.
This is not only a money saver, but you know what you are putting into the mix, and trust me (sorry Eggo), these are so much better.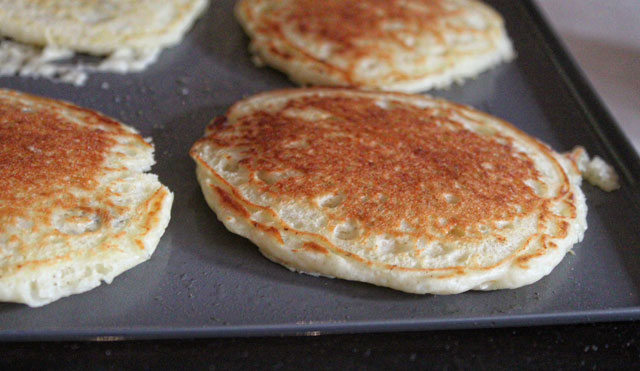 Let's get started.
Ingredients:
2 cups all-purpose flour
1 tsp baking soda
2 tsp baking powder
4 tbsp sugar
1 tsp salt
2 cups buttermilk
1 cup milk
2 eggs, beaten
1/2 stick butter, melted
cooking spray or additional butter for your skillet
chocolate chips or blueberries, optional
Start by adding the dry ingredients to a large mixing bowl, and give them a good mix. add the wet ingredients, and slowly stir to incorporate all of the ingredients. It's OK to have small lumps. Let the mixture rest for about 5 minutes before ladling them onto a hot skillet.
Spray cooking spray, or use additional butter to lightly lube your skillet.
Ladle on about 1/2 cup of the buttermilk pancake mix onto the skillet. Top with chocolate chips if you desire (the demand was clear from my daughter). Cook for a few minutes, lifting up to check for a nice golden brown. Once golden, flip them over, and cook for another couple of minutes.
Remove, repeat, and serve.
If you are freezing them, lay the cooked pancakes onto a baking sheet lined with parchment paper. Let cool, then stack them and place in a sealable bag.
When you are wanting to reheat, simply place three on a plate, and place in the microphone for about 60 seconds, or until heated through.
Hope you enjoy!