Chorizo and Cheese Stuffed Burgers
Burgers and Summertime. What's not to love? We grill burgers about every two weeks at my house, and the routine is always the same with the family. Two cheeseburgers, one plain with bacon, no burger for my youngest, and well, then there is me and that's when I started to get creative.
Don't get me wrong, I'm a fan of a simple cheeseburger, a big fan at that, but sometimes you want something a bit off the usual path. That's when I took a look in my refrigerator and found some good old Mexican chorizo, and hence the idea on this burger recipe. The chorizo and cheese stuffed burger.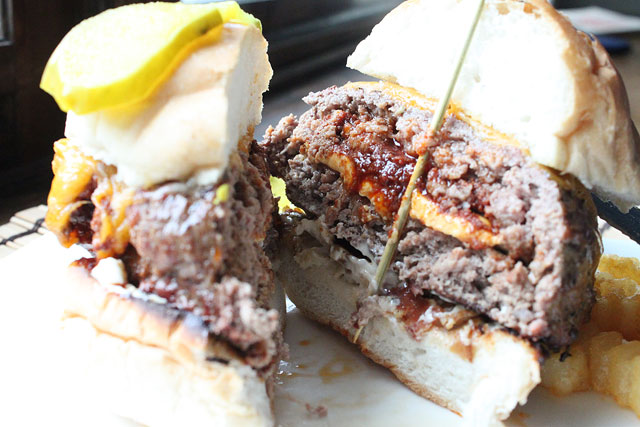 The end result was something super delicious, and an explosion of flavor when biting into it. A must make in my opinion.
Let's get started.
Ingredients:
1/2 lb ground chuck
1 cup Mexican chorizo, cooked and fat removed
2 slices of American cheese
Cooked bacon, optional
1 hamburger bun, good and sturdy, toasted
mayonnaise, optional
pickles, optional
Start by cooking your Mexican chorizo. During this time, form your hamburger patties.
Divide your ground chuck into 1/4 pound patties. When the chorizo has cooled, take one patty and place on the American cheese. Top with the cooked and cooled chorizo, then top with the other 1/4 pound patty.
Shape and form the patties so that both patties are combined, and sealed. Season with salt and pepper if you desire.
Once your grill is heated, cook over direct heat for a few minutes, then flip, add another slice of the American cheese, and cook for another few minutes before finishing over indirect heat until your desired doneness.
To assemble, take your bottom toasted bun and slather on some mayonnaise. Top with bacon if desired, then the cooked chorizo and cheese stuffed burger, then the top bun. Spear a pickle on top and dig in.
The result is awesome. The creaminess from the mayonnaise, the crunch from the smoky bacon, and then the explosion of the chorizo and cheese. Good? Heck yes. Delicious to say the least and as meaty as it sounds, it was not heavy in feeling. As a matter of fact, it was hard to put down.
So the next time you are firing up the grill to make some burgers, and want something different, give this one a shot. It was a real treat.