I'm a sucker for Vietnamese pho. I truly am, and cannot get enough of it. I often think it is due to the delicious broth, but when slurped with some noodles, fresh herbs, and protein, then you really have a great, and I mean a great, meal. To me, Vietnamese pho is best during the morning hours, but for whatever reason any of the pho shops around town only open around 11:00 a.m. I kind of want a bowl of pho at like 9:30 a.m., not 11:30 a.m.! Often times my go to pho is the classic beef parts along with some tripe, but recently I decided to make a batch of chicken pho, and lord almighty it was delicious. Regardless if you are just batching out the stock and going with some spin on a chicken noodle soup, I recommend going full force and making a batch of this chicken pho. It's comforting and everything you expect in a great pho.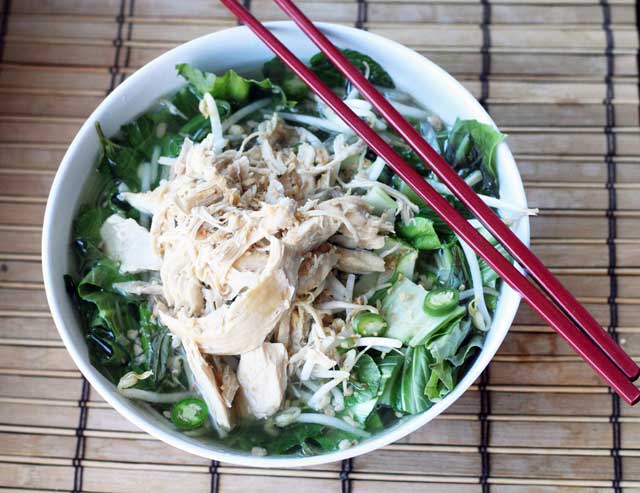 Let's get started.
Ingredients for the stock:
2 whole onions
3 inch piece of ginger
2 lb chicken thighs
1.5 lb chicken drumsticks
1 tbsp salt
4 quarts of water, to cover
4 tbsp fish sauce
4 whole star anise
1/2 stick cinnamon
1 cup of sake, optional
2 tbsp sugar
Ingredients for the chicken pho:
2 whole boneless, skinless chicken breasts (or thighs if you desire)
1 bag of bahn pho noodles (find at Asian market)
1 whole lime, quartered
Sriracha, optional
1 bunch Thai basil
1 whole jalapeno, thinly sliced
1 bunch fresh cilantro, torn
1 bunch bean sprouts
1 bunch of fresh mint, optional
1 bunch bok choy, chopped, optional
oyster sauce, optional
Preheat your oven to 450 degrees. Add the onions and ginger to a baking sheet, and place into the oven until they are nice and charred. You can do this on your grill as well if you desire. Once charred, add them to the stock pot, along with the chicken pieces, salt, fish sauce, star anise, cinnamon, sake, and sugar.
Bring the stock to a boil, then reduce the heat. You will notice a bunch of chicken scum come to the top during the simmer. No fear. You want to remove all of this. Use a skimmer to remove the scum, and discard. If you do not have a skimmer, use a large spoon. Continue to remove the scum as it appears.
I cooked my stock for about 6 hours, because, hey, why not? Once thoroughly cooked, strain using a chinois, or another type of strainer over a large pot. I use the chinois, and press the mixture until all of the stock is strained. Let the stock cool, the cover and refrigerate.
When you are ready to use, add the stock (it will be thickened from all of that great chicken fat) to your pot to reheat, letting it come to a boil.
Add in the chicken breast, or thighs and simmer until fully cooked. Remove the chicken, and shred.
Add the pho noodles to a large bowl, and top with hot water. Let the noodles cook in the hot water until they just get slightly tender. Keep an eye on them as you do not want to overcook the noodles.
To serve, strain the noodles and place a generous amount into your soup bowl. Add the chicken, fresh herbs, bok choy and bean sprouts, and ladle in generous amount of the chicken broth.
When you are ready add the lime juice, Sriracha, jalapenos, and oyster sauce, stir, and get your face down into that bowl.
Gosh this stuff was great, and as much as I love the classic beef pho, this just brought that comfort level up with what you might think of a great chicken noodle soup, but elevated to the 10th degree. Â Hope you enjoy, and have a great Thanksgiving!