I'm probably getting excited, not only because it is Spring time, or at least getting close, but probably because Easter Sunday is near. Unfortunately this year much of the family will not be around and no one will be able to get together to enjoy an Easter Sunday feast, hence why I had glanced in my freezer only to find a small ham I had found on sale some time ago. I love ham, don't you? It's probably my son's favorite, maybe both of my kids, and to me, there is nothing better than a ham that is plated on a table. The big question is, is why do we typically only make ham once or twice a year?
When I saw that ham, I knew I could go the standard route and bake it, but I wanted to do something different, plus I wanted to bust out the smoker, and hence why I now had that smoked ham.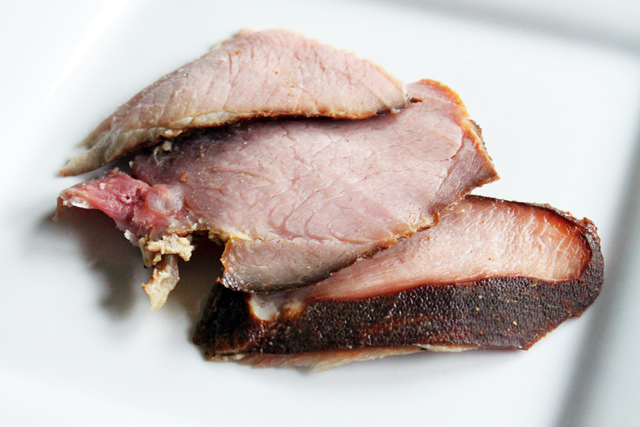 This is so easy to make, and the smoke adds a great additional character to the ham. Did my family love it? Yes! We actually ended up eating it for three days straight.
Let's get started.
Ingredients:
1 ham (I use the butt end)
1/2 cup of yellow mustard
1 cup of light brown sugar
cherry wood for the smoker
water pan for the smoker
Start by rubbing the ham with the mustard. The yellow mustard will act as the glue for the brown sugar.
Next, add the brown sugar, and massage it onto the ham. Let the mixture sit on your plate as you prepare your smoker.
When I smoke, I use charcoal as my ignition, and chunks of cherry wood as my smoking agent. I also have been using the Smokenator for well over a year now, and love it. But whatever smoker you use, have at it.
Once the charcoal is lit and nice and grey, add the wood chunks and water pan, and set your ham over the indirect heat on the grill. Cover, and cook for about three hours at 250 degrees.
After three hours, remove the ham from the smoker, wrap it in a couple of sheets of aluminum foil, and place into a 300 degree oven until the internal temperature of the ham is about 140 degrees. I do this in a two step process as to not only get the great smoke flavor from the grill, but to also have it finish and be nice in tender in the oven.
Once the temperature has reached 140 degrees, remove it from the oven, and using a sharp knife, cut it into thin slices, or your desired thickness.
Now you are ready to serve. The subtle smokiness of the cherry wood really had my kids, all of them, coming back for more. Again, we ate the ham for dinner three nights straight, and even my kids loved it so much they were making ham sandwiches for their lunches, plus I had plenty of leftover ham to freeze. I'm sure I'll be serving it again during the Easter holiday.
If you are looking for a nice smoked ham, give this one a shot. That mustard and sugar combination, along with the cherry smoke, really made this smoked ham shine. Enjoy!