Gosh, I do love jalapeno poppers, don't you? I love the actual surprise, not only with the piping hot cheese but the uncertainty if the jalapeno is going to be on the mild side, or the hot side. I prefer the hot side. With that said, Filipinos are notorious for making really awesome egg rolls, what they call lumpia, or lumpia shanghai. Â My wife introduced me, or should I say her family introduced me to these styles of egg rolls. Their wrappers are crispy, and inside is an array of things such as ground pork, potatoes, small shrimps, and green beans. Â This is how my in laws make them, and one that I often make for my family, only with this exception. The exception being the fact that I had four large fresh jalapeno peppers on my cutting board, just staring at me and wanting me to do something with them. That's when I figured I would try out some new egg roll, or lumpia wrappers, and instead of going the classic lumpia way, I decided to stuff some and fry them up. Were they excellent? You bet your butt they were.
Let's get started.
Ingredients:
1 package of egg roll wrappers
1 lb ground pork, cooked and cooled
4 jalapenos, stems removed, cored and seeds removed
1 russet potato, skins removed, cubed and cooked until just tender
2 cups of cooking oil (I use canola)
1 egg, beaten
1 1/2 tsp cracked black pepper
1 tsp salt, to taste
Gently fold the cooked, cubed potatoes into the cooled pork mixture. Season with salt and pepper, and give a gentle stir.
Take one cored jalapeno pepper, and using a small spoon, stuff the meat mixture, gently packing it in, into the jalapeno. Fill it to the top, and repeat with the remaining peppers.
Reserve the remaining meat mixture for making more lumpia, or use more jalapenos and repeat the process with however many you would like. Again, I only went with four as I knew I would be the only one eating the ones with peppers.
Next, take one egg roll wrapper and lay out with the point in front of you, can towards you.
Place the stuffed jalapeno pepper, about a quarter way, in the middle, closest to you. Fold the sides over, take the point closest to you, and begin to roll, bringing in the sides if necessary. Refer to this image if needed. Roll just about 90% to the top, then brush the point with the beaten egg. Roll and seal.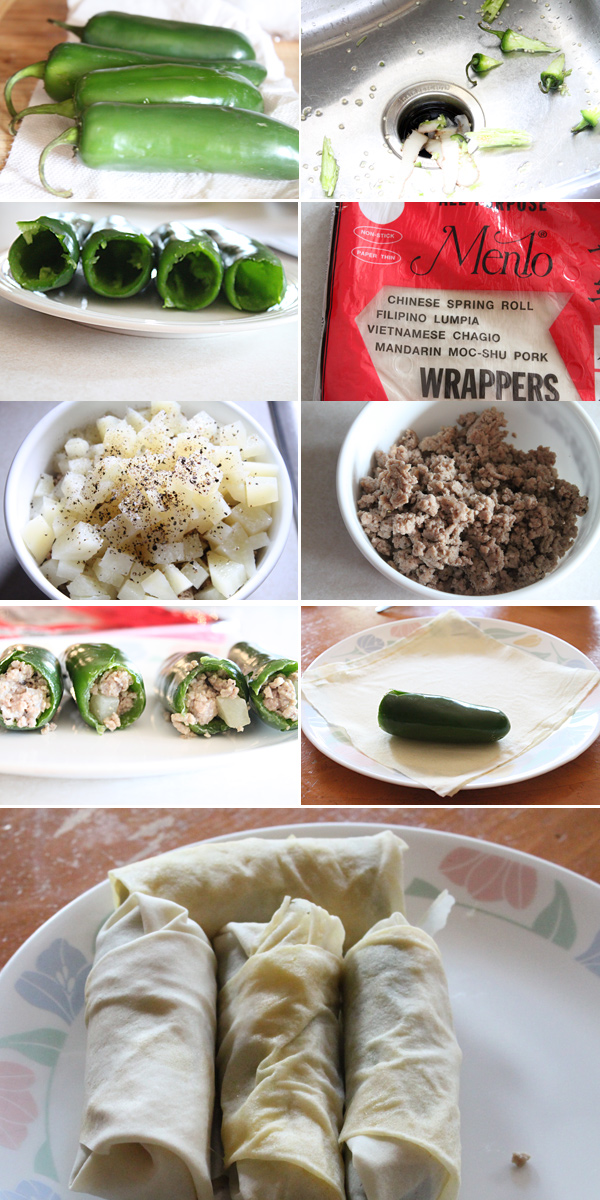 Do the same with any remaining pork mixture, using about 1/2 cup per lumpia.
Heat the oil in a small pan, and bring to a medium heat. Once heated, add a few of the lumpia and cook until the wrappers are a golden brown.
Remove the lumpia with some tongs or chopsticks, and place them onto a paper towel lined plate to remove any excess oil.
Continue cooking the remaining lumpia.
Let these cool for a few minutes before digging in. I plated mine on a bed of lettuce, sliced in half to expose the delicious pork, and showered the plate with some roasted peanuts.
Grab a cold beer or glass of wine, and dig into these jalapeno stuffed lumpia. I hope you enjoy!