I have had a serious craving for Indian food lately. I mean like a really bad craving. Unfortunately there are not a whole lot of Indian restaurants near where I live, so I had to take matters into my own hands and come up with what I am calling Indian chili. I call it that as while my wife, daughter, and I were eating it my wife had asked what the dish was called. I had no clue, but it was hearty, comforting, and truly delicious, plus it was on a Sunday, a day where I normally make chili, so I coined it Indian chili.
The recipe has everything I love about Indian food, and is loaded with two types of beans, making it a healthy choice for weeknight meals.
Lets get started.
Ingredients:
1 cup of red lentils, soaked in warm water for 30 minutes
1 cup of red beans, soaked in warm water for 45 minutes
1 whole onion, diced
2 tbsp grated ginger
4 cloves of garlic, minced
1 small potato, diced
1 whole carrot, finely diced
1 red chili, seeds removed, finely diced
2 bonless, skinless chicken thighs, chopped
5 cups of chicken stock
1 tbsp mustard seeds
1 tbsp turmeric powder
1 tbsp paprika
1 tbsp cumin powder
salt to taste
whole cashews, optional
Naan, warmed, optional
2 tbsp canola oil, divided
salt to taste
Start by straining your lentils and beans, and pick out any rocks if you see them. I rarely do, but some times they slip in.
Next, heat a large pot, enough to hold all of this madness, and heat 1 tablespoon of the canola oil. Add in the onions, potatoes, and carrots, and cook until the onion begins to soften. Once softened, add in the ginger, garlic, and chili. Once the garlic perfumes your kitchen, toss in the lentils and beans, and give a good stir. Cook this on medium heat for a couple of minutes, then increase the heat to medium-high and add in the chicken stock. Next add in the chicken, cover, reducing the heat to medium-low, and cook until the red beans have softened, about 1 1/2 hours.
Once the beans have softened, get another small skillet set on medium-high heat, and add the remaining oil.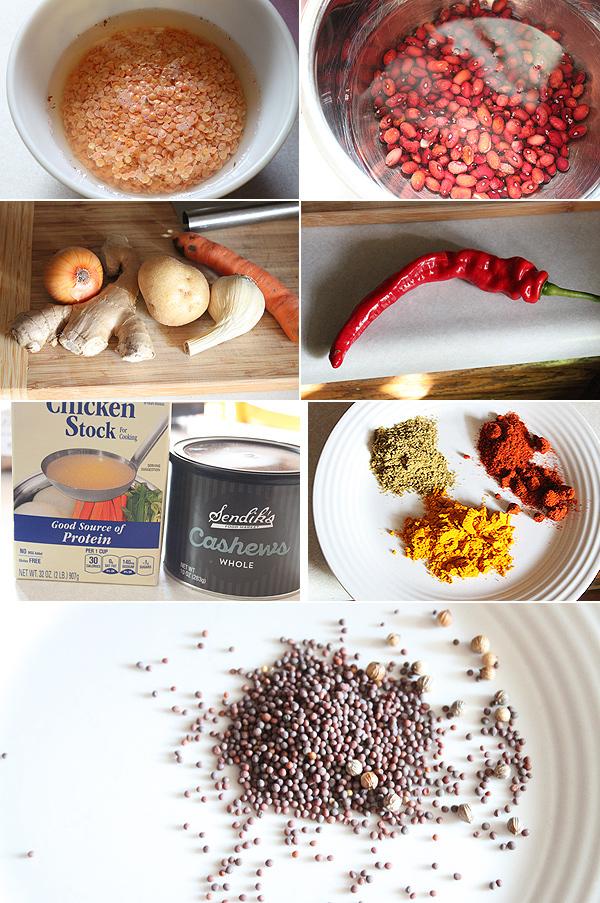 Once the oil shimmers, get the lid ready to cover, and toss in the mustard seeds. Quickly cover as those seeds are going to start dancing and the oil is going to start popping. Once the seeds pop, add in the turmeric, paprika, and cumin, giving a nice stir. After about 20 seconds of stirring, scoop all of that mixture into the chili pot and give that a good stir. Cook the chili for about another 10 minutes, allowing all of those awesome spices to infuse the chili.
Season the chili with a generous pinch of salt, stir, and taste. If it needs more salt, and it may, feel free to add more.
Ladle the Indian chili into a bowl, sprinkle with cashews, and serve with warm naan.
Talk about a great spin on Indian food, and the comfort of chili, this one is it. If you are looking for a great weekend meal to prepare, and one that gets better for leftovers, give this one a shot. Hope you enjoy!