A handful of years ago I came up with a recipe known as 'spicy egg in the basket with sausage'. It was essentially a pretty awesome breakfast recipe where a piece of bread was cut out and topped with an egg and some cooked breakfast sausage. After thinking about it, I could probably eat that every morning. IT WAS THAT GOOD. This time was a bit different though. As I watch my wife eat her daily, morning bagel (Yes, she eats a bagel every single morning), something lit up, and it came to me to come up with this recipe. The egg in a bagel. As much as my wife loves her morning bagel, I'm a total sucker for making a McMuffin for breakfast. That's my morning jam and I could probably eat something along those lines every day to get my morning going. This egg in a bagel was no different, but a nice little spin on a mcmuffin.
Let's get started.
Ingredients:
1 plain bagel (or use your favorite style)
1 whole egg
1 slice of American cheese
1 slice of deli ham
salt, to taste
cracked black pepper, to taste
1 tbsp unsalted butter
1 ring cutter, or serrated knife
Start by cutting out the center of your bagel. I use my handy, dandy ring cutter, about 2 inches in diameter, something wide enough to house the egg and get an even cook on it.
Do the same with with the cutter, or knife on the American cheese and ham.
Next, heat your skillet on medium heat, and add in the butter. Lay the bottom bagel down onto the melted butter, crack the egg into the hole, the top with the cheese, and ham. Top with the top side of the bagel.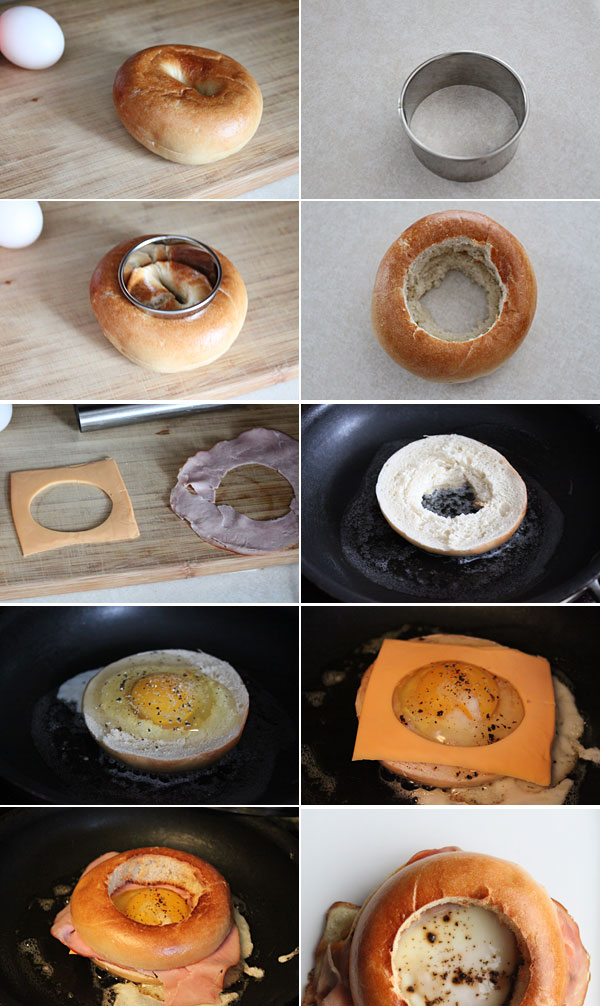 Season the top of the egg with a pinch of salt and cracked pepper, then top with the lid, steaming the egg a bit so that it cooks through to your desired doneness.
Once the egg is cooked through, plate and serve.
Not only is this thing a joy to look at, it's a thing of beauty to eat. That American cheese is crispy on the edges, along with the ham, creamy on the inside, the bagel lightly toasted from the butter, and the egg is perfectly cooked and creamy making this breakfast sandwich one to step up to any contender.
If you are looking for something fun to make, something pretty to look at, and more importantly something super delicious then give this one a try. Hope you enjoy and everyone have a great New Year!