I start by saying I feel blessed by knowing my wife. We met moons ago but to this day my feelings for her have never changed. On a recent anniversary, porcelain was the deal. I think I was laid up sick (not unusual nowadays), but she delivered a couple of things that she knew I would love. Porcelain.  There was a lasagna dish, and a fondue item. I LOVE FONDUE. Many years ago, probably on the start of our marriage, my wife's friend brought over a fondue kit and that is when it started. Granted I had fondue in prior to that, but the communal experience is one that I totally love(d). So when my wife showed my that love and thought, I was all in and really excited.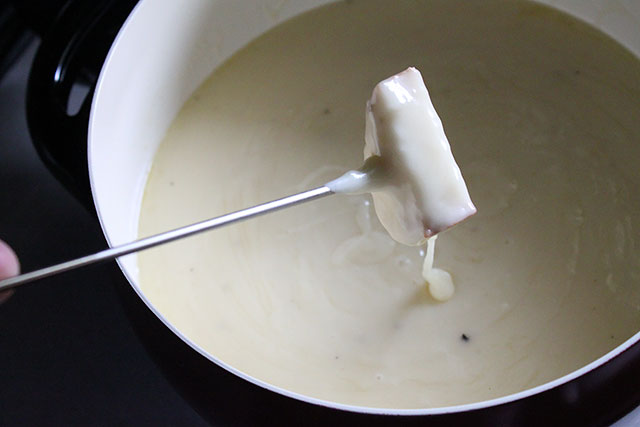 My kids have never had fondue, or if they did it was at a very young age.
Fondue is special. It's fun and it is simple once you have everything in place. I believe it is derived from the Swiss, but being in Wisconsin and having great cheese, wine, and everything else, well it does add up to a great cold winter appetizer or dinner.
There are different kinds of fondues. Cheese, chocolate, or oil based pots for communal dipping. This is a simple cheese fondue and I'm certain there are so many different takes on it. Mine was simple. Bread and cheese on a cold winter day.
Let's get started.
Ingredients:
1 lb bag of fondue cheese, or grate your own Swiss and Gruyere cheese
1 garlic clove
1 cup of dry white wine
rustic bread, cubed or torn
Any vegetables you want (optional)
1 tbsp lemon juice
pinch of cracked black pepper
I know there is probably a more traditional way to fondue using Kirsch, but to be honest who has Kirsch sitting around? I did once and it was consumed immediately. Wisconsin loves its brandy. This is stuff that is easy to get a hold of, and once you start mixing the cheese and keeping it warm, well it is so hard to not hit it every 10 minutes.
Start by rubbing your fondue pot with the clove of garlic. Don't be shy. Rub that sucker. Then warm your fondue pot. You can buy the sternos at the store or online. Or if your fondue pot is electric, even better.
Once the pot is warmed, add in the cheese(s), wine, and lemon juice. Stir well. Toss in the pepper and stir some more. Once this begins to melt, keep stirring, and get ready to use your poker. The pokers are color coded. If you have a sicko around, no poker.
If your fondue starts to thicken, add a bit more wine, stir and loosen it up. Keep the heat on low and when eating, poke the break and stir that cheesey awesomeness up.
Dip and go. My wife and I love cheese fondue. The strength of the cheese kind of freaked out my kids, who love cheese, which was just fine because that meant more goodness for us. Go fondue! Hope you enjoy, and hope your new year is off to a great start.