Isan, or Isaan is a northeastern region of Thailand, bordering Laos and Cambodia that has its own style of food. Not that it stems too far away from the main culture, but I find it to be a bit spicier, and commonly the food is eaten with sticky rice (known as khao neow).  This grilled chicken is common in the region and is one that you will really love, whether you grill it (preferred) or bake it until you have crispy skin. I have made variations of this style of chicken over the last 15 years or so, but this one is a bit different as I brined the chicken in advance to make it even more juicy. If you are looking for in introduction into Northern Thai cooking, and one without a ton of spice but packed with tons of flavor.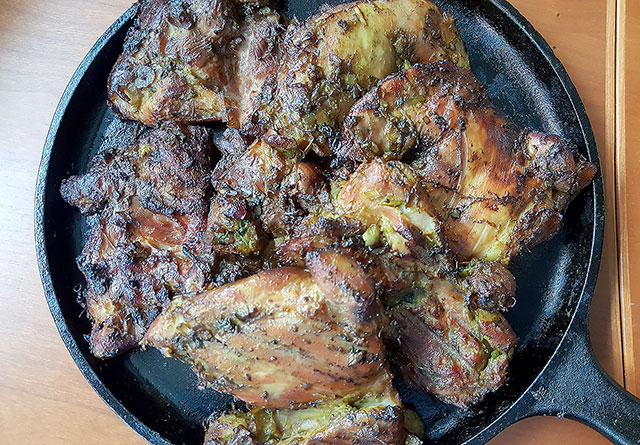 I used boneless, skinless chicken thighs on this particular recipe, but feel free to use a halved chicken, or spatchcock a chicken and go that route, especially for a crispy skin.
Ingredients for the brine:
1 gallon of water
1/2 cup of kosher salt
1/2 cup of white sugar
1 whole chicken, cut into pieces, or 6 boneless and skinless chicken thighs
Ingredients for the Marinade: (if you have a mortar and pestle use it, otherwise your food processor)
6 cloves of garlic
1/2 cup of thinly sliced lemongrass
1/2 cup of cilantro, leaves and stems
1/4 tsp MSG, optional
3 tbsp oyster sauce
1/2 tbsp curry powder, or turmeric
1 tbsp fish sauce
2 tbsp canola oil
Start by bringing the salt, sugar and water to a boil. Once the sugar and salts dissolve into the water, remove from the stove and let it cool.
Once the brine is cool, add in the chicken pieces, cover, and let this brine for 4 hours, and up to 24.
Make the marinade, either by using your food processor which many of you probably have, or go the authentic route and use the mortar and pestle. Make the mixture into a wet paste. Scrape into a sealable jar until the chicken is ready.
When the chicken is ready, remove it from the pot, and rinse and pat dry. Add the chicken pieces to a large sealable plastic bag, and pour in the marinade. Massage the marinade into the chicken and marinate for another 4-24 hours. The longer the better in my opinion.
Before you are wanting to grill, set the chicken out to get some of the chill off of it. I grill over charcoal, but again you can grill over wood, gas, or cook at 400 degrees until you get your internal temperature. My preference is grilling over coal for a more authentic taste.
When you have your grill going, I like to heat one side of the grill with coals and keep a warmer side with no coals. This way I can adjust the heat if things get too hot.
Place the chicken on the grill, near the coals, cover, and adjust the vents. You kind of want to go low and slow with this, slowly cooking the chicken, while any skin will get nice and crisp.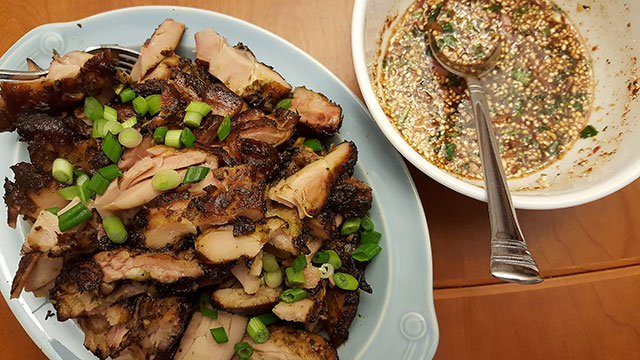 As this is cooking, feel free to whip up some dipping sauce that includes fish sauce, lime juice, chili, and a bit of sugar. Also feel free to serve this with jasmine rice, or better yet sticky rice (this is take a bit more planning, but recommended). When the chicken comes to your desired temperature, remove, and serve. Again, I used thighs, so I ended up chopping mine up as my kids love to eat stove like this in the style of larb.
Dig in and enjoy. The flavors are out of this world. A bit smoky from the charcoal, juicy from the brine, and just packed full of awesome flavor from the marinade. This is a great introduction to Northern Thai food, so give this one a try. Hope you enjoy!