Mexican Elotes Tater Tots
Summertime is finally here, and sometimes that is s a great thing or a bad thing. The bad only being that it has been a scorcher in Wisconsin. The temperature has been in the upper to mid 90's lately with a high percentage of humidity. I don't perform well in humidity, and as I normally run hot to begin with, when you add humidity that only means I'm a walking puddle.  The great thing is that all of the wonderful produce that my wife and family love is in full harvest, and one of them being corn. I've always related corn and tomatoes to summertime while living in the midwest, and as we grow a lot of tomatoes in our garden, corn is pretty much on our lunch or dinner table several times a week.
While living in Dallas, I was first introduced to Mexican corn (Elotes), and I fell in love. It was addicting. Grilled or steamed corn smothered in mayonnaise, sprinkled with chili powder and cotija cheese, what was not to love? I had elotes on my mind after buying a handful of corn on the cob, and after rummaging through my freezer (trying to purge frozen items), I located some nice tater tots. I love tater tots, and after looking at both the corn and the tater tots, I knew I could only do justice my making some loaded Mexican Elotes Tater Tots.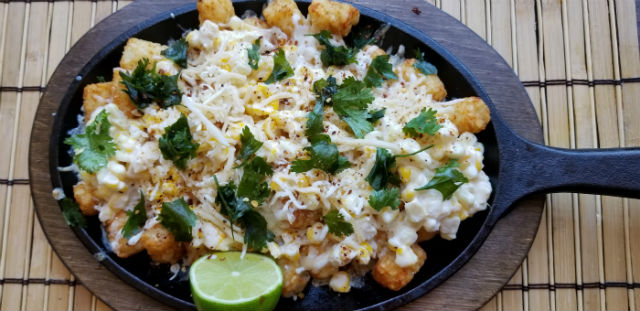 Forget the nachos. These are a game changer.
Let's get started.
2 ears of corn, steamed or grilled, then cut off the cob
1/2 a bag or about 15 oz of frozen tater tots, cooked by directions on bag
2 cups of Supremo 3 Cheese Mexican blend cheese (Chihuahua, Oaxaca, Cotija)
1/3 cup of Mayonnaise
1 tsp chili powder
salt and pepper to taste
1 tbsp fresh cilantro, chopped, to garnish
1/2 lime, optional
Start by preheating your oven by directions, or fry the tots if you desire. I baked mine on a cast iron fajita skillet (love), and during this time steam or grill your corn.
Once the corn is cooked to your liking (I like mine a bit al dente), cut it off the cob and place it into a mixing bowl.
Add the mayonnaise, chili powder, and a bit of salt and pepper. Those tater tots need some salt and pepper.
Once the tots are close to being done (and to your liking), and some like them a bit tender and some like them nice and crispy like myself, remove the skillet or baking sheet from the oven. Top all of the tater tots with the Mexican shredded cheeses and place back into the oven and cook for about 5 more minutes or until the cheese is nicely melted.
Once the cheese is nicely melted, remove it from the oven and slide onto your serving plate. I keep mine on the cast iron skillet and place it on top of the wooden board that came with the fajita skillet.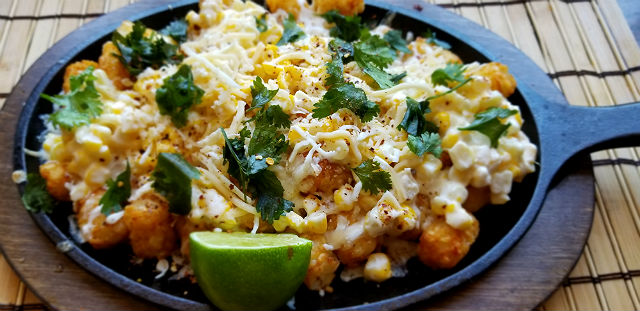 Top with the corn mixture, shower with fresh cilantro, and serve with a lime wedge for additional acidity.
Now block yourself from others, just kidding, and dig in. You talk about everything you can love about Mexican Elotes, these Mexican Elotes Tater Tots just bring it over the top. Simple, quick, and delicious. This is a perfect Summertime snack. Enjoy.
If you are looking for other takes on Mexican elotes, or other corn ideas this summer, give these a try: