Mixed Bean Soup with Fresh Herbs
Are you like me who makes a quick list before heading into a store? I've been that way for some time and my lists that I keep during the week add up. These lists though allow me to make my driving routes and get into stores quickly and efficiently as I make attempts to stay clear of those who may look sick (coughing, sneezing, etc), especially this time of year. Not too long ago however I found myself checking off my list of things to get at Costco, but then got sidetracked, most likely because I saw some sickos ahead of me and turned down an aisle that I did not need anything from, that is until I saw a big bag of mixed beans that looked great, even in their uncooked state. We always talk about getting more legumes into our diet, so I was already sold.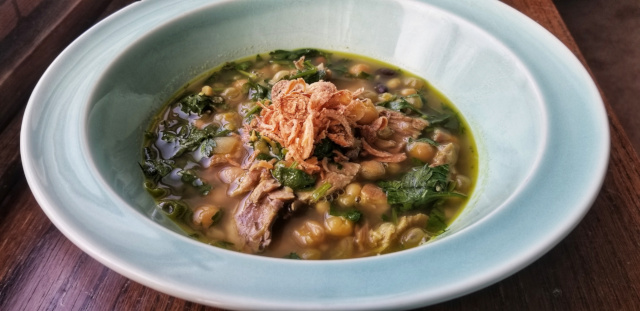 So I have been making soup at least once a week recently, most likely due to the season, and granted I made French Onion Soup back to back, I decided I was going to use up those beans and turn them into a Middle Eastern style soup, and this one a mixed bean soup with fresh herbs, and pork. This soup was so good, and we knew it as we ended up eating it again the following day for another dinner.
Let's get started.
Ingredients:
2 tbsp canola oil
1 medium onion, diced
5 cloves garlic, minced
1 tbsp turmeric
3 cups of mixed beans, washed and soaked in water overnight (I used a blend of mixed beans including garbanzo)
4 cups chicken stock
4 cups water
2 cups pork shoulder, roughly chopped
1 cup flat leaf parsley, chopped
1 cup cilantro, chopped
3/4 cup fresh dill, finely chopped
2 cups fresh spinach, chopped
salt, to taste
cracked black pepper, to taste
fried onions, optional
Start by soaking your beans overnight in cool water in a large bowl. When you are ready to make the soup, rinse and strain the beans.
Heat a soup pot on medium heat. Add in the oil and bring to temperature. Toss in the onion, and stir, cooking for about 7 minutes. Next, toss in the garlic, and turmeric and give a good stir. Cook for about 3 minutes, then add in the strained beans. Give a good mix, then add in the stock, water, and pork. Cook this for about 2 hours, covered on medium-low heat.
Once the beans are tender, check about 1 hour in, add in the salt and cracked pepper. Start with about 2 tsp of salt as the beans can handle that, and about one teaspoon of black pepper. Stir and continue to cook. Taste for any additional seasoning. Add more if necessary.
Add in the fresh herbs and spinach, stir and cook for about 10 more minutes to allow those herbs to perfume the soup.
Now you are ready to serve.
Ladle the soup into a bowl and top with fried onions.
The end result is really comforting. You get the creamy beans, still having some texture, along with the fresh herbs which are the real star, and the super tender pork and crispy onions. It's really a great bowl of soup, plus super healthy to boot. What is not to love about that? So thank you to the person who sneezed an aisle ahead of me and allowing me to turn down that aisle at Costco. Those beans and I thank you. Hope you enjoy!