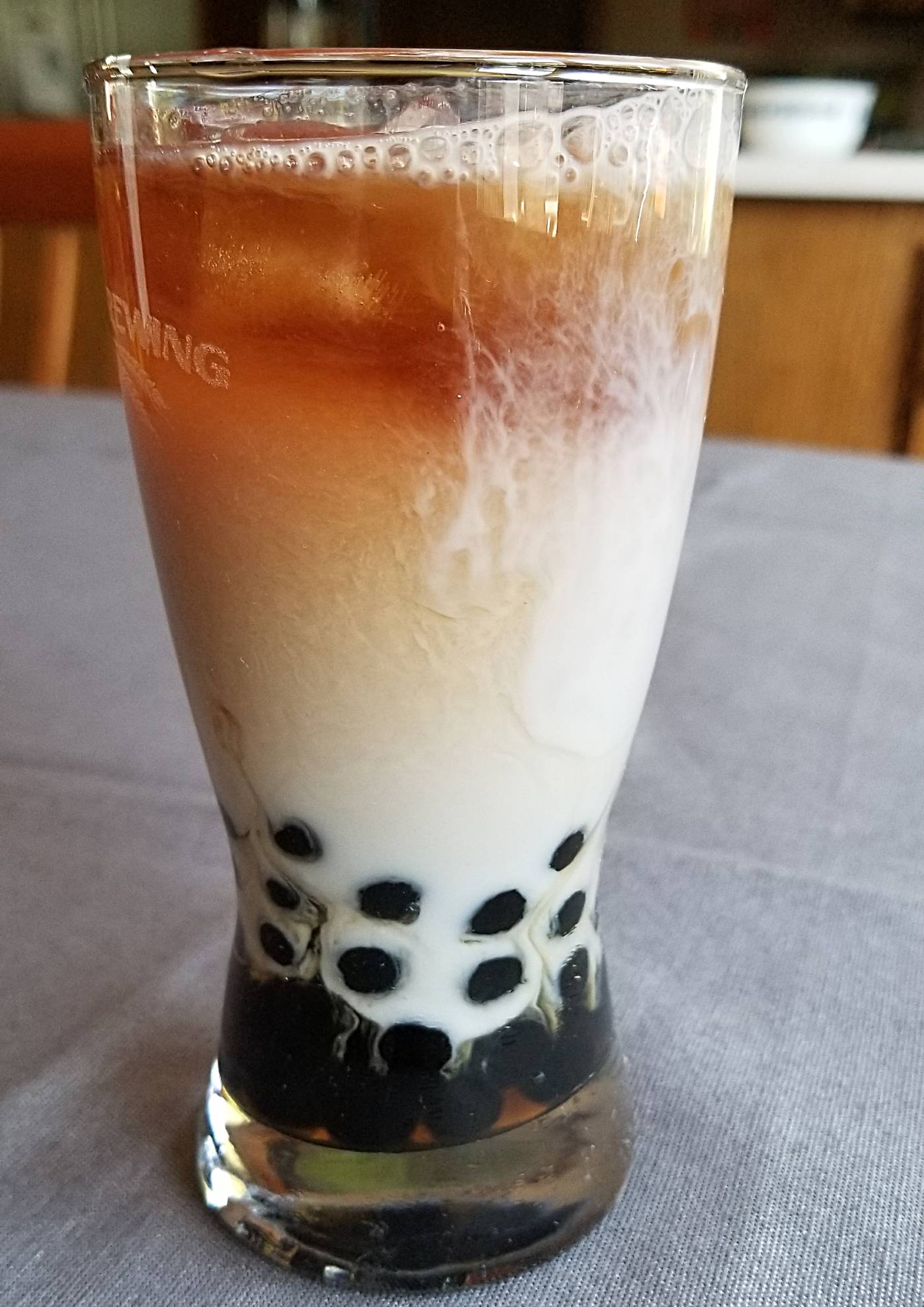 Bubble tea or Boba tea? However you define it there is something completely addicting about a simple addition to a drink. Tapioca pearls. I was first introduced to bubble tea only a couple of years ago. My eldest son was the person who introduced me while visiting Chinatown outside of Chicago, Illinois. When I think about it, I often think this, of all things, is the first time I was introduced to after so many years? To be honest I am not sure what type of drink I was sucking down along with the chewy tapioca pearls, but what I did know is that it was awesome.
It's a drink for sure. It always feels like a real treat though while you are drinking it. The straw is a wide straw, and a perfect straw at that. It's wide enough to slurp up those tapioca pearls while at the same time getting as much of the drink as you desire. I'm not sure what came over me but I was out to get some tapioca pearls and use up some great black tea.
The beautiful thing is that you can find the tapioca pearls at your local Asian market and cook them in about 20 minutes. Let's just say my kids could not be happier.
Ingredients:
1 cup of tapioca pearls
2 tbsp light brown sugar, or honey
your favorite tea (or drink for that matter), brewed and cooled
Almond milk, to your liking (or use a creamer if you would like)
ice
To a large pot add about 8 cups of water. Bring to a boil. Slowly add in the tapioca pearls and stir along the way. Cook for about 8 minutes. Cover, reduce the heat to low, and continue to cook, stirring a few times along the way, for another 8 minutes.
To a large bowl, add cold water.
Strain the tapioca pearls then add them to the bowl of cold water. Soak for about 30 seconds to slightly cool, then strain the water. Add in the brown sugar to the strain tapioca pears and give a few good stirs. The sugar will melt make the pearls nice and sweet.
Now for the assembly. I like mine with cold black tea and almond milk. You go how you want to go.
To a serving glass, add as much tapioca pearls as you desire. I went about 1/2 cup. Add some ice, then almond milk and black tea. When you are ready to serve, throw in a bubble tea straw (you can probably also find this at your Asian market), stir and go at it.
The black tea and almond milk is super refreshing. It's creamy, caffeinated, and once you get those tapioca pearls slurped up, it just becomes a chewy, delicious beverage. Now when my kids want bubble tea (or bubble juice) they got it. 20 minutes and those chewy tapioca pearls transform your drink into pure joy.
Please note that you will want to cook what you will use. Storing the cooked tapioca is probably not the best option as they will harden up within hours. Regardless they will probably not last that long. One cup of cooked tapioca pearls (they get slightly bigger when cooked) went to about four regular drinks.
What are your thoughts on bubble tea? Fan?